Groomed to Perfection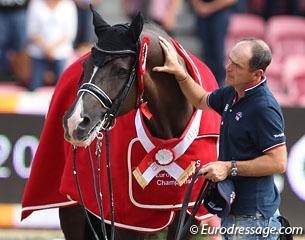 A groom fit for a king, Alan C. Davies has spent the last two years shining the hooves and plaiting the black locks of the dressage world's current leading man, Sir Valegro.  Being instrumental to Valegro's pristine look, Davies is the key stylist behind the scene, who prepares the World record holder for each memorable performance.
Davies feels that if he weren't committed to his life helping the dressage elite he would make a damn fine hairdresser!
"I can do amazing things with a mane and tail so I would love to have a go with a head of hair," Alan told Eurodressage. "Plus I am a good listener so could listen to all the old ladies in the hair salon all day!"
A groom since he left school, Alan has always been fascinated with horse and loves taking care of them. He has been part of the horse industry for all of his working life!
"I have worked for a wide range of people covering a lot of disciplines and I was lucky enough to spend four years in the USA working with Michael Matz,  taking care of The General who won gold at the Pan Am Games. I worked in showing for a long time for Tanya Nicol,  winning the HOYS and the Royal International and I groomed for Emile Faurie at many championships including the Sydney Olympics. Now I'm with Carl and Charlotte after I came to do a couple of shows for them in the beginning of 2011. I never left."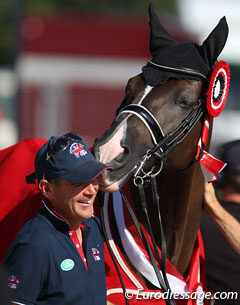 Having travelled the world, Alan has had loads of great times during his grooming career and enjoys becoming part of not only the horse's life, but part of the entire national team and their success. He found it hard to define his best-ever experience but replied that Sydney was definitely a joyous experience.
"The Aussies looked after us so well. We had our own grooms village and nothing was any trouble," Davies explained. "Of course there is also London, so well organised and so amazing to be in such an amazing city so encapsulated by the whole thing! I think the relief when we won team gold was what I remember most about London as everyone wanted us to take it so there was tremendous pressure. To finally hear the national anthem was sheer joy."
So what is this groom to the king's greatest tip? "I think the best tip I ever had was my plaiting technique of rolling the plait through the band so you can't see the band," said Davies. "It's quick and easy and keeps the mane from getting ruined!
Plaiting perfection aside, Alan believes the secret to being a top groom is patience, particularly when you are travelling internationally. "You never know what situation could arise so you need to stay calm for your horse's sake and also it helps the riders if all about them is calm, they can concentrate on their job," he said.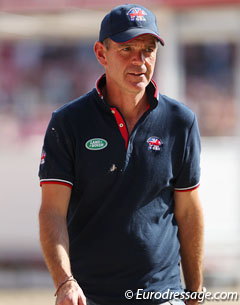 In love with horses and the dressage sport, Alan recalls his funniest moment as witnessing a fake tail falling out of a very famous horse on the way to the prize giving and as a member of the "all for one one for all grooming spirit" Alan quickly picked it up for the groom and placed it firmly on his head so that no-one would notice! "We still laugh about that one now," he added.
Alan confessed he is unable to live without his my wooden wall box that he bought in Florida. He and his tack of tricks go everywhere together and he hopes to continue his work with the nobles of dressage.
"My wooden wall box gets hooked up outside the stables and it has all my essentials in it: brushes, clothes, sugar lumps for the horses, and of course chocolate for me!"
Text by Sarah Warne for Eurodressage
Photos © Astrid Appels
Related Links
Praise to the Groom, the Hardest Working Professionals in the Equestrian World!
Eurodressage Grooms' Corner: Groom and Rider Advertisements