Groomed to Perfection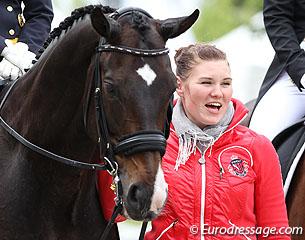 Moving to Germany at just 20 years of age, Denmark's Benedicte Stine Olsen became the competition groom for Princess Nathalie zu Sayn-Wittgenstein and spent four years, a World Equestrian Games and an Olympic Games, learning the artful tricks of this 24/7 horsey life.
"There's been so many highlights to my grooming career but overall it would have to be the opportunity to be a part of Nathalie's career throughout some very important years, thinking of the very succesful results she had with her top horses, Rigoletto and Digby. For instance with Rigoletto she won in Aachen in 2009," the now 25-year old Benedicte told Eurodressage. "The World Equestrian Games in Kentucky in 2010 with Digby was particularly special for me, as Nathalie's son Konstantin was born just 2 months before and during the event we all lived in our own groom's village, driving around in golf carts and beingpart of a show, not only in regards to the dressage but watching a lot of reining, para-dressage, eventing and so on."
Grooming for four years, Benedicte hung up her competition curry comb to continue her studies last year. While completing her BSc in Business Administration and Organisational Communication at Copenhagen Business School, Benedicte keeps her passion for horses alive in her spare time. "I'm currently riding two horses and working part-time during weekends in the stable," she explained.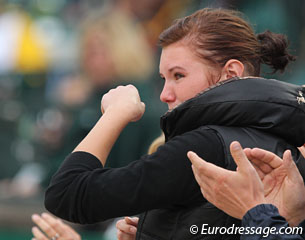 Looking back on her stint with Princess Nathalie, Benedicte remembers that the key of a job well done was to always keep an eye on what the other grooms were doing. Along the way she picked up a few fall back plans of her own.
"Of course I have some special secrets but if I tell you, it's not a secret anymore," Benedicte joked. "However, I can tell you that I am a big fan of Gaffa tape. Travelling to many shows, dealing with many different boxes, show grounds, etc.  the tape is particularly useful! My tip for a grooming up-and-comer would be: "If you can't fix it with Gaffa, you just didn't use enough!"
According to Benedicte having a good overview of the ins and outs of grooming can basically only be achieved if the person is responsible for pretty much everything. "It will help you if you always think one step ahead. Then, of course, you also have to be a reliable and responsible person," she stated.
Travelling across the globe with Nathalie, Benedicte was blessed with both the ups and downs, the wins as well as those unavoidable stressful moments.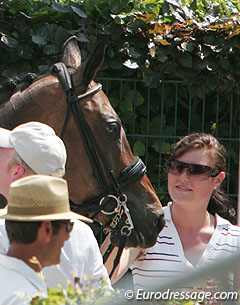 "As I worked only for Nathalie, whom is the most down to earth person you can imagine, I'd never really felt a "I'm dying stressful moment," except for one in London," she confessed. "I forgot Nathalie's accreditaion in the stable and found out 5 minutes before her freestyle start. At every other show, you would manage not having that bloody accreditation, but at the Olympics it is really important when the rider gets off the horse, that s/he is wearing that iddy biddy personal passport (which of course wasn't that little in terms of importance). Our chef d'equipe Kimi Nielsen turned into Usain Bolt and ran all the way to the stable and managed to get back just as Nathalie was on the centerline. I still owe her a gold medal for that performance."
Unable to live without her "metal hook thingy" to hang the bridles on at the shows for a good cleaning, Benedicte is proud to have experienced the world of top level grooming. While it's back to business with her studies, she is not saying never again to her gaffe-tape-grooming days!

"I would love to groom at top level shows again, but at the moment i just can't see myself doing the 'normal' days at home between the shows," she admitted. "Right now I'm competing at Prix St Georges level at national shows with a horse Nathalie (or her mum) bred, called Mastermind. He has the same dam as Digby and is my schoolmaster for Grand Prix!"
by Sarah Warne for Eurodressage
Photos © Astrid Appels
Related Links
Benedicte Stine Olsen, Taking Care of an Olympian
Eurodressage Grooms' Corner: Groom and Rider Advertisements
Robbie Sanderson, Groom with Free Spirit and Total Commitment
Alan Davies, Groom Fit for a King
Praise to the Groom, the Hardest Working Professionals in the Equestrian World!