Groomed to Perfection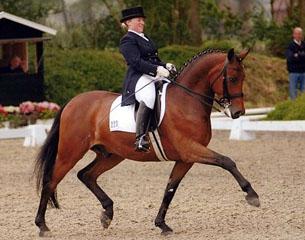 A knife, an alarm and an "Oh Shit Kit" became Casey Dornan-Nilsson's go to gadgets during her 17 year journey as groom for top American rider Catherine Haddad-Staller.
"I was a groom but also a stable manager, a rider, and a friend, and I became known as the right arm woman of Catherine Haddad," said 37-year old Casey. "What I loved about being a groom was seeing all the the fantastic venues in Europe, and of course the super horse and rider combinations. I have made a lot of valuable friends by being a groom. And I am thankful and grateful for the horses I had to take care over the years. They have made me who I am today."
Beginning her grooming life in the summer of 1993, Casey was invited for a 6 week European tour with Charlotte Bredahl-Baker alongside a German shepherd, two horses and Barbra Streisand, and she has stuck with the horsey life ever since!
"It was amazing and I was hooked on Europe and even more on taking care of these top athletes. We travelled from Germany, Belgium, and Denmark with a VW bus and a horse trailer. This was an amazing experience," Nilsson reminisced. "One of the shows that stands out in my mind is Aachen with Charlotte and Monsieur. Of course Aachen has taken a state of the art  change today but it was also pretty amazing then."
After that kick-starting summer, Casey met up with Catherine Haddad-Staller at a clinic in 1996 where she was invited by Catherine to come to Europe as a groom, rider and stable manger.
"After a few thoughts and a lot of organising from friends and family I made the move for eight weeks," she said. The 8 weeks turned into 17 years and Casey says you cannot imagine all she learned during that time. "From managing to riding to grooming. I learned how to be prepared and keep your rider and horse happy. You need to know them inside and out. When they sleep, eat and drink. You have to learn to deal with the good and the bad. and to always have an 'Oh Shit kit'."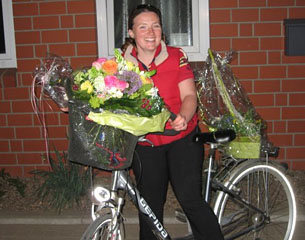 Knowing that elbow grease will give the best shine, Casey feels it is also important to be patient and polite! "Remember your pleases and thank you's. And remember you can always learn something from someone else," she stated. "Plus, one thing I never forget when traveling as a groom is an alarm clock and a knife; not for safety but for emergency. You never know when you might need it!"
Clocks and weapons aside, Casey feels that the key to a top groom is be true to yourself and your employer. She believes that if you are happy and enjoying life then it will show through in your work, in the horses and your life.
"Remember you never stop learning, as the horse world is changing all time, so keep your eyes and ears open," she added. "There are lot of things I have picked up from many people over the years but one of the things that sticks out in my mind is braiding and all the fine details and different ways there are."
Along with the many must-do's there is an equal amount of mustn't-do's. For Casey the biggest mistake a groom can make would be not to respect their horse and their rider.
"They all have bad days too, just like us grooms," she added. "One of the funny stories I can remember was when Catherine and myself were driving to France with 3 horses and on this particular time we decided to drive through the night. The start of our trip was great until we both became a little tired around 4 or 5 in the morning and we took a wrong turn on to the French freeway and were going the wrong way down the freeway. Luckily there were  lots if French police that did not speak English to escort us back in the right direction. We woke up really fast as this all happened."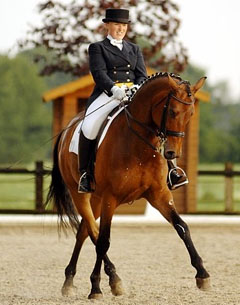 Among the many touring highlights, Casey told Eurodressage that traveling to Normandy, France in 2004 sticks out in her mind, and of course there is the CDI-W London with Maximus. "I have never done an Olympics but have seen all the national shows in Germany and have covered a lot of ground with international ones too," she said.
Now, Casey is proudly putting all that worldly elbow grease into her own horses, after choosing to stay behind last year when Chatherine made the move back to the United States.
"I decided to start a business with my husband in Vechta, Germany, and we now run a training stable with 12 horses and 2 dogs. It was a tough decision but up till now all is well and we are happy training and grooming our horses."
Finding it hard to be a successful rider and groom at the same time, Casey believes that they require so much energy and attention that it is impossible to do both at the top of the sport.
"I think a top international rider, no matter what sport, is no-one without their groom!"
Photos © Ruchel
Related Links
Robbie Sanderson, Groom with Free Spirit and Total Commitment
Benedicte Stine Olsen, the Princess' Groom, On Gaffa Tape, Golf Carts and Metal Hook Thingies
Alan Davies, Groom Fit for a King
Praise to the Groom, the Hardest Working Professionals in the Equestrian World!