Young Guns in Dressage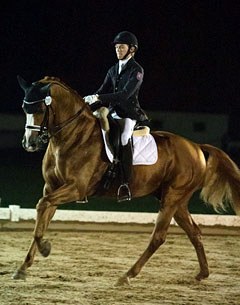 For German junior rider Lucas Alecco Roy his dressage career is one juggling multiple duties and learning from the "words of wisdom" he gets at school, from his trainers and from his horse. At the 2014 CDI-PJYR in Babenhausen on 11 - 14 September, 17-year old Roy and his Hanoverian stallion Wisdom finished third in the Kur to Music finals with an international personal best score.
Lucas and his 16-year old chestnut Wisdom (by Weltmeyer x Matcho AA x Wummestern) improved each day in Babenhausen at the international youth riders competition that was very well attended by a huge field of riders. In the team championship test Lucas landed 13th place with 66.486%, he finished 10th in the individual test with 65.921% and in the freestyle the pair found their groove to the beat of the music and slotted in third with 71.150%.
"Wisdom was very reserved on his first day, due to his long journey up to Babenhausen," Roy explained. "He felt a little jetlag," he joked. "Apart from that I think he was very comfortable there. To a large degree that is down to the excellent care he receives from his groom, Afif, who is a core part of the team and has been looking after Wisdom for many years. Wisdom never leaves home without him. For me it was of course a great challenge and a privilege to represent my State of Hessen in one of the most important junior competitons in Germany."
Lucas lives in Monaco with his parents and trains with Bernadette Brune and Ralf Heffenmenger at the Domaine Equestre des Grands Pin in Vidauban, France. His dressage pursuits are a very multinational affair, which involves careful time management between school, training horses and fitting in shows during the year.
"He is a very serious student," said coach Bernadette Brune. "He tries to come as much as possible after school, drives one hour and a half to ride here with me in Vidauban. I started his training two years ago and he now gets coached by Heffenmenger as well. He is very talented and as soon as he gets a top horse I think he will rise like a star."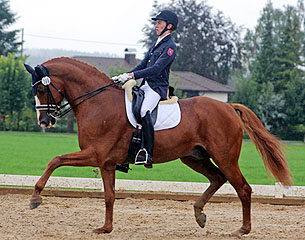 Wisdom was acquired from Brune as a schoolmaster to help Lucas make his break through on the international scene. Meticulous care and training at home are keys to their success.
"Wisdom's daily routine involves a lot of action, not just in the arena, but also out on the trails in the vineyards," said Roy. "He is already 16 and knows his routines in his sleep. Primarily the work we do is designed to be fun for him too! Because I am in my final year of school I do not have as much time as I would like to ride Wisdom at present. Ms Brune supports me there and I now have a professional German rider, Ralf Heffenmenger, at my side who has competed internationally for Germany. He looks after my horses and myself."
His bold chestnut stallion fits Lucas' personality and the two are very much tuned into each other. "He really knows his stuff and he looks pretty good too," Lucas laughed. "His good looks impress the spectators, but it's the mares that particularly take a shine to him! He quite likes to show off all he's got when he sees a good-looking colleague."
While Wisdom is the professor, youngster Sir Rubilord is following in those hoof-steps. The black 5-year old Oldenburg stallion by Sir Donnerhall I x Rubinstein made his show debut at the 2014 CDI Nice in August and won the FEI Young Horse class twice!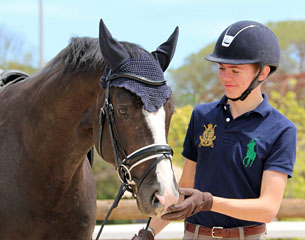 "He is just starting his training," Lucas said about Sir Rubilord. "I've ridden my first competition with him in Nice. He won the competition, but obviously we can't yet tell at this point how he will turn out. We certainly hope that one day he will become as successful as Wisdom."
With two horses to ride and a great team to back him up, the future is bright for this young gun in dressage. For 2015 Lucas will need to manage his senior year at high school with riding, which will prove plenty a challenge for the goal getter.
"I need to finish my last year of school and get my diploma," Lucas explained. "Seriously, though, the planning will be heavily influenced by all the deadlines and exams I have in school. I will ride whichever competition fits into a free slot during my studies' schedule. I will constantly work at getting better and stronger, both physically and mentally. Frankly, for me the serious riding has only just begun."
Photos © Rainer Dill - private
Young Guns in Dressage - Lucas Alecco Roy
Date of birth: 6 March 1997
Nationality: German
Place of Birth: Frankfurt
Sign/Horoscope: Pisces
Profession: Student
Hobbies: Cars, Kick Boxing,  Running, Cycling, Fitness Training and Cooking
Best personal quality: I am sure of what I do
Personal defect: Can't find enough hours in the day
Favourite TV: Top Gear and Grip
Favourite car: Königsegg Agera R
An unforgettable holiday: An 8 month Round the World Tour
Favourite food: Asian Fusion
Related Links
Scores: 2014 CDI-PJYR Babenhausen
Scores: 2014 CDI Nice
Hornig and Maier Pull a Hattrick at the 2014 CDI-PJYR Babenhausen
German Junior Lucas Alecco Roy Exceeds Expectations at 2013 CDI Vidauban