Eurodressage Market - Services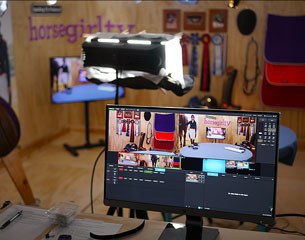 The ground-breaking original web series, HorseGirlTV, was founded in 2007 by dressage rider Angelea Kelly and went on to become an USEF award-winning series. Ahead of her time, Kelly's format blazed the trail for many wonderful equine-centric video podcasts and original web shows. In 2012, she took a hiatus from hosting and producing the semi-monthly episodes to train full-time with her Sir Donnerhall gelding, Hansel. The pair relocated to Holland to train in 2014, Hansel was sold and Kelly returned to the states refocused on her farm and new media career.
This past year Kelly partnered with the organic, biological fly control leader Spalding Fly Predators to bring back HorseGirlTV in the form of a live studio show and rebranded as Spalding Fly Predators' HorseGirlTV. This new series premiered in February and has been publishing live every other Tuesday since.
The most recent episode featured the innovative wearable tech, SeeHorse, along with former groom of Olympian Guenter Siedel and founder of Pro Equine Grooms, Liv Gude. High tech is promised to be re-occurring in a "Bits n Bytes" segment alongside more traditional offerings like HorseGirl Mail plus flashbacks known as HorseGirlTV Classic. While a dedicated dressage rider, the content Kelly curated for HorseGirlTV has always been diverse and focused on the positive aspects of the equine industry. This live series is proving to be equally broad with its topics.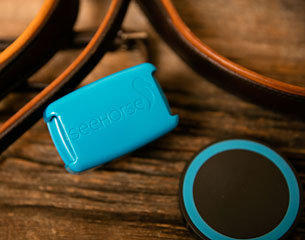 The next episode will go live Tuesday, May 23 at 3PM EDT (GMT-5) on HorseGirlTV's Facebook. Tune in, like and comment for a chance to WIN a SeeHorse wearable tech unit valued at $500. In this upcoming episode, fans will learn about the majestic Friesian Horse, stunning Gypsy Vanners, and explore the sport currently exploding in Finland; competitive hobby horsing.  
About SpaldingFlyPredators.com

Affordable, effective, and easy to use, Fly Predators, prevents flies before they emerge. They are the natural and safe alternative to spraying gallons of pesticide, hanging dozens of stinky traps or putting up acres of sticky strips only to have the flies just keep coming back. A family owned and operated company for over 40 years and now with several hundreds of thousands of customers, SpaldingFlyPredators.com has become the preferred method of fly control for all types of animal owners. The majority of customers use them as long as they have their animals and some have used them for 30+ years!
Feel free to contact Angelea if you're interested in being on HorseGirlTV or with show ideas, feedback, or her experience using Fly Predators.

HorseGirlTV is presented by SpaldingFlyPredators.com
by Kathryn Collins
Related Links
Bits, Bytes, & Farm Life After Grand Prix
Popular equibarre Workout DVD Launches Digital Downloads