Eurodressage F.O.C.U.S.
American Grand Prix team newbies Olivia Lagoy-Weltz and Rassing's Lonour made an impression at the 2017 CDIO Rotterdam by finishing third in the Grand Prix with a personal score. In a field containing Holland's strongest Grand Prix riders, Lagoy stood her own and surpassed all expectations.
The 33-year old Lagoy-Weltz grew up in the San Francisco Bay area and initially combined dressage with eventing. She worked on her dressage career by moving to Europe as an 18-year old to improve her riding. She first worked three years for Dutch horse dealer and trainer Egbert Kraak, and then gained experience at Udo Lange and Christilot Boylen's barn in Germany, after which she spent six months with Ulla Salzgeber. Lagoy-Weltz returned to the U.S.A. in 2007, and started her own dressage training business, becoming head trainer at a large facility in Northern California. In 2009 she picked up a job at Kathy Priest's yard in Versailles, KY. 
Now based in Haymarket, Virginia, with her own business, Olivia bought her number one Grand Prix horse Lonoir as an 8-year old at Andreas Helgstrand's stable in 2012, where the horse was in training with Maik Kohlschmidt. In 2009 Helgstrand's stable jockey Anna Blomgren was a Danish team reserve on Lonoir for the 2009 World Young Horse Championships.
Rassing's Lonoir is a 13-year old Danish warmblood by De Noir out of Lorani (by Loran). Bred by Jan and Dorte Rassing in Denmark, the bay made his national small tour debut in 2013 and international show debut at the CDI Wellington in February 2014. In 2016 she moved the horse up to Grand Prix level and showed him in Wellington and Devon. Up till that time the pair was coached by Lars Petersen.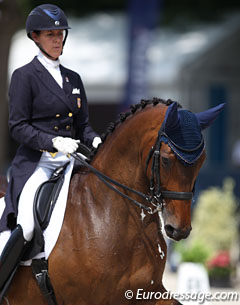 To take herself and her horse to the next level, Lagoy decided to get coaching from U.S. developing GP team trainer Debbie McDonald. In 2017 the pair unlocked a new level and cracked the 70% barrier in the CDI Grand Prix classes in Wellington. At the 2017 U.S Dressage Championships in Gladstone, they won bronze. 
Sponsored by MaryAnne McPhail, Lagoy and Lonoir travelled to Europe after Gladstone for their second Euro tour; their first being in 2015 at small tour level. Currently stationed at Egbert Kraak's yard in The Netherlands, Olivia is working with her old coach as an extra pair of eyes on the ground alongside McDonald. 
"Egbert is not replacing Debbie as my trainer as far as I'm concerned," Olivia told Eurodressage. "I still very much value her input and training and give her full credit for helping us get to this point. Egbert knows me quite well and has known me for such a long time- I find in really helpful to have him added into the mix.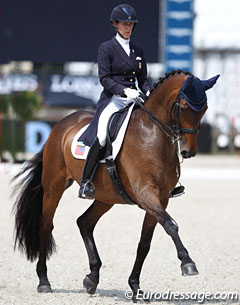 Being based in Holland, Olivia took her gelding to a regional show in Delft, The Netherlands as a warm-up competition for Rotterdam. The pair scored 72.10% to finish second, while the two other American Rotterdam riders were first and third. Kasey Perry scored 73.85% and Dawn White-O Connor got 711.5%.
"I had organized to stay at Egbert's farm for a week before we showed at Delft. I asked him to help me some before that show and then it felt like things were on a really good track so I talked with Debbie and we agreed that if it was going so well that I should keep working with him leading up to the show. There are things I know that she's been pushing me towards that he was able to explain just a little differently and it really hit it home. No one can ever replace Debbie, but everyone also needs their own support team around them. We are all unique as riders and learn a little differently. Egbert has a way of explaining things to me that really clicks, probably because I grew up riding in his system and I think that always leaves a lasting impression."
The 2017 CDIO Rotterdam Nations Cup was Olivia's first international in Europe and she scored a personal best mark of 74.580% in the Grand Prix. 
"Rotterdam was a great show for us," she said. "The practice show that we did beforehand had already gone quite well so I came into the show really knowing I could own the ride in the Grand Prix. I feel like I know exactly how every stride in that test needs to be ridden and that he and I have found really found each other in that test. I had no idea how it would score but the ride gave me quite a good feeling."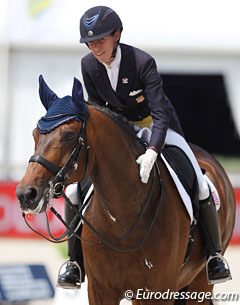 Unfortunately in the Grand Prix Special, they dropped to a 68.078% due to mistakes. 
"Of course I would have loved it if we had been able to produce a repeat performance in the Special and I honestly believe we can; the quality was there, but there were just too many bobbles this time which is not really characteristic," Olivia explained. "We are not owning that test quite yet the way we are owning the Grand Prix. That's my home work between now and the next show. Really getting in there and owning the GP Special, and to just keep upping the quality. There's a lot in there."
It is no surprise that Lagoy is aiming for a spot on the U.S. team for the 2018 World Equestrian Games in home country U.S.A. 
"I'm really grateful to everyone who made this trip possible," she said. "This is an incredible opportunity to build our strength and depth for next year and this is the kind of venue we need to do it in."
Photos © Astrid Appels
Related Links 
Laura Graves Shines In Tropical Grand Prix Thriller at 2017 CDIO Rotterdam
Team U.S.A Wins Nations' Cup Leg at 2017 CDIO Rotterdam
Lagoy-Weltz and Pai In Command on Day Two at the 2017 U.S. Dressage Championships
Olivia LaGoy-Weltz and Rassing's Lonoir Earn Second Inter I Win at the 2014 CDI-W Wellington
Danish Team Announced for the 2009 World Young Horse Championships