Vechta Auction News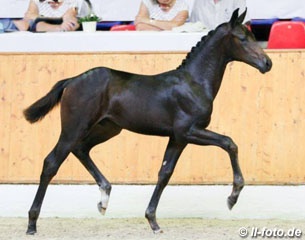 Florenziko became the price highlight of the 2017 Oldenburg Elite Foal Auction in Vechta, Germany, on 26 August 2017. The For Romance x Diamond Hit colt sold for 110,000 euro.
After the fantastic successes of the last few weeks with numerous medals for Oldenburg horses at the European Championships, the 2017 Elite Foal Auction at the Oldenburg Horse Center Vechta also achieved a phenomenal result.
Price highlight Florenziko is bred by Dr. Rolf-Peter Schulze and sold for 110,000 euro to Austria. Austrian clients also purchased Viva Vivaldi (by Vitalis x Sir Donnerhall) for 46,000 euro, Diamond Hero (by Diamoind Hit x Furst Heinrich) for 35,000 euro and Feiner Heiner (by Feinrich x De Niro) for 32,000 euro.
An Olympic dressage stable bought Franz Werner, a colt by Franziskus x De Niro x Feiner Stern  for 65,000 euro. Franz Werner is bred by Werner Dullweber from Bakum.
Both the third and fourth most expensive foals come from the famous breeder's house of Georg Sieverding. The hammer fell at 60,000 euro for the filly Monasteria (by Sir Donnerhall I x Desperado x Sandro Hit). She sold to a dressage rider from Denmark. The filly Silverdream (by Escolar x Fürstenball OLD x Dormello) was knocked down for 50,000 euro. She also sold to a competitive dressage stable.
Danish clients bought Vivaldiko (by Vivaldi x Detroit) for 42,000 euro and Vincent (by Vivaldi x Sandro Hit) for 18,000 euro. Americans purchased Neas Indiana (by Indian Rock x Don Romantic) for 20,000 euro.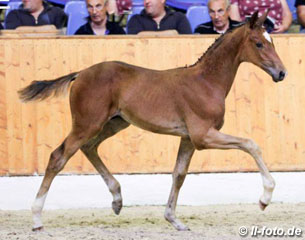 Ukrainian clients acquired Harietta (by Ibiza x Don Romantic) for 35,000 euro and Idomeneo (by Ibiza x Fidertanz) for 32,000 euro. Germans bought Mondrian (by Morricone x Sir Donnerhall) for 24,000 euro.
The best selling show jumper was Confed Cup (by Cornet Obolensky x Nabab de Reve x Tenor Manciais), bred by Joeri Stevens. He sold to jumping stable Heinrichs for 36,000 euro.
Customers from abroad showed great interest in Oldenburg quality foals. In total, 42 of the 94 auction foals were sold abroad. The biggest buyers were Austria (8), Switzerland (6), USA (6), Belgium (5), Denmark (5), The Netherlands (3), Ukraine (3), Australia (1), Columbia (1), Italy (1), Ireland (1), Luxembourg (1) and Sweden (1).
The average price for a foal at this auction was approximately 16,000 euro.