Training Your Horse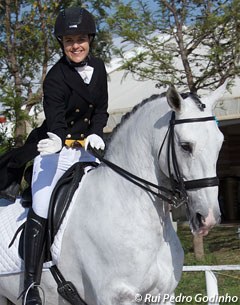 Five years ago I set out to compete internationally and in 2015 I made that happen. People read my classical training articles on Eurodressage in most part I believe because I didn't sugar coat the road. I never said "and then you just pop the horse into a shoulder-in and it's easy". I explained that each step in dressage is one step forward and it takes patience and resilience to continue through the ups and downs.
I didn't say that you just arrive in Europe and get a good horse, and go to a competition and smile all the way. That is just not going to happen.
It has now been more than 1.5 years since my last big competition, because I was badly injured and I damaged some tendons, which take long time to recover. This was made worse by the fact that I continued to ride, even though I knew in my gut that my horse was no longer right for me. Batialo had been my best friend, partner, and reason for being in Europe and my reason for getting up at all. Yes, that was very hard for me to admit.
I have learnt throughout a lifetime of riding that there are two things that make a top sports person, and neither have to do with physical talent or technique. One is a passion for the sport. A drive that can take you beyond all the disappointments and set backs; a drive that will make you get up at 3am and drive 6 hours to a freezing cold competition in the rain, and stick at it through all the times when you messed up, or forgot the test, or finally actually did a good test and didn't get the marks that you possibly deserved.
The second thing is humility. Being humble enough to say I didn't do well today, the judge was right, and most importantly, this horse, no matter how much I wish him to be, is never going to reach his potential with me as his rider. For whatever reason, you might be too small, or too tall, or yes even too much of a women, because some horses just need a man!
Having this mix of passion and humility will not guarantee you get there, but it will put you ahead of all the people who waste their time on a horse that just doesn't suit them, or that they are afraid of, or that they just don't connect with.
Unfortunately  for me, I did click with Batialo. Sometimes I honestly believed he knew me better than anyone. I will never forget the day that a little girl at the stable said to me that she knows nothing about horses, but she could see that that horse over there was mine, and that he just adored me.
However, I can wallow in self-pity all I like, that won't change the fact that I have spent the last 18 months trying to recover on a horse I am afraid of, a horse that knows I have lost my faith in him, and my faith in myself when I am on him. Batialo spins around when he feels cheeky and I injured my tendons with it. To make matters even rose, I lost my confidence on him and I can't get it back.
Einstein says that "The definition of insanity is doing the same thing over and over again, but expecting different results". And, quite honestly, I was going insane. Even worse I was losing my own sense of pride and achievement, because I felt like I had failed my horse. And that is something an athlete can never do.
I have thought a lot about giving up riding, but I can't. It's not just a sport to me. It's also something that I share with my mother, who taught me to ride before I could walk, and who has shared my journey since the beginning. It' my reason for calling her at 6am before a competition and asking her what do to if this happens, or why I can't get the left half pass in the test. It's true I ride for myself, but I also love that my best friend (mum) shares it with me.
So I tried to sell Batialo, but I just couldn't. As of May 2017 Batialo has gone to Portuguese rider Frederico Pinteus to be trained and competed on in Grand Prix, with my mum and I as his owner. I will continue my own riding career on a new, young horse, which is boosting my confidence, a Rubi offspring that has proven to be gentle and kind.
I have learnt in life that when you fall off the horse, you have to get back on. This time I will be getting on a different horse, but with all the knowledge that I have learnt from Batialo in the last five years.
by Sarah Warne - Photo © Rui Pedro Godinho