Veterinary News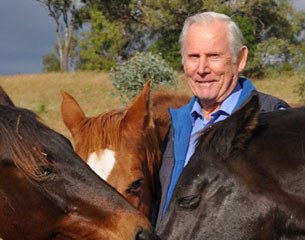 Legendary Australian veterinarian Dr Reg Pascoe has passed away at age 88 on the Darling Downs in Queensland, Australia.
Pascoe was the founder of Oakey Veterinary Hospital in 1952 and he was considered one of the world's leading equine surgeons and dermatologists. He devoted his entire life to veterinary excellence of the highest order and mainly worked in the race horse business.
Dr Pascoe is one of the first graduates (1951) of the UQ Vet School. He completed his fellowship with the Royal College London (1973), Australian College of Vet Scientists (1975) and gained his Doctorate in Vet Science in 1984.
Reg was appointed Adjunct Professor in the School of Veterinary Science and Animal Production at the University of Queensland in 1998 and has been described as Australia's most eminent Equine Specialist. Reg lectured and consulted extensively throughout Australia and overseas including India, Spain, England, USA, Canada and the Philippines presenting numerous scientific papers at veterinary conferences and Universities throughout the years of his professional career.
Reg was awarded the Order of Australia and he was revered and admired right around the world with numerous prestigious awards named in his honour.
"Reg remained involved, productive, active and intellectually curious until the very moment of his passing. He always worked for his community and took care of his magnificent sprawling garden, spending precious time with Joy, his beloved family and his eleven grandchildren," an Oakey Veterinary Hospital press release read. "Reg Pascoe was a true leader and a legend in every sense. They do not make men like that anymore, and we are all so much the poorer for his passing."
Pascoe leaves behind his wife Joy and four sons John, David, Roess and Andrew, who all are either veterinary or medical specialists.