Eurodressage Market - Products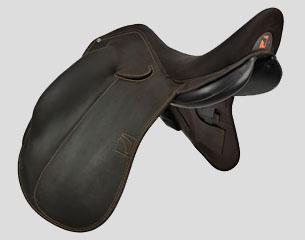 The Salon du Cheval de Lyon 2017 CDI-W - Equita'Lyon will be the opportunity for Childeric, the famous French saddle maker to present his latest dressage model. Named DPL, it clearly is a concentrate of novelty. Tested since June 2017 this new saddle was conceived to enrich the rider's experience.
In his new dressage saddle DPL, Luc Childeric has combined a number of innovations for both horse and rider while respecting traditional craftsmanship. This latest model is lighter because it features a special wooden and carbon tree. The DPL is made with high quality supple leathers which allow to adapt the closest to the horses' shape. The suppression of the small flap on this saddle offers an even closer and finer contact for the rider.
After studying in great depth the balance on horse-back, an innovative seat was created to allow the rider to optimize his demands keeping the greatest comfort.
The DPL is a subtle mixture of aesthetics and technique for the most demanding riders.
Luc Childeric with his latest saddle has not forgotten that the world of dressage is in a constant evolution!
Visit us at the CDI-W/CSI Lyon on 1 - 5 November 2017.
CHILDÉRIC stand L60 Hall 4.1