Pony For Sale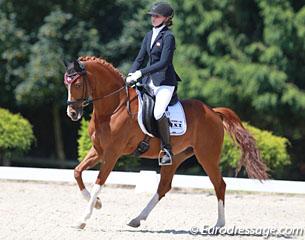 Internationally competed FEI Dressage Pony mare Gee Gee. Stunning 14-year old eye catcher with a proven show record. Outstanding schoolmaster
Name: Gee Gee 2
Breed: German Riding Pony
Year of birth: 2003
Sire: Going East
Dam sire: Nansen
Gender: mare
Height: 147 cm
Price category: 67,000 euro 
Gee Gee 2 is an extremly well ridden, strong moving, honest and cooperative FEI dressage pony with a lot of national and international competition experience and results.
In 2015 and 2016 she was a part of the danish B-team. She has participated in national shows in Denmark and Sweden and international CDI-P shows in France, The Netherlands, Austria, Belgium, Norway as well as the Future Champions CDIO-P in Hagen, Germany. Every single time with starts in the Finals.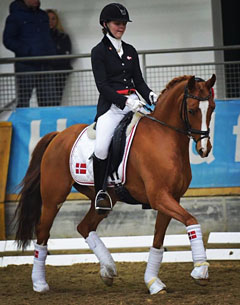 She won silver at the 2016 Danish Pony Team Championships. In 2017 Gee Gee achieved many top results at national competions in Denmark:  She was in the finals for the 2017 Danish Championship and achieved top results in the Ecco Cup 2017 three days in a row!
Gee Gee is a German Riding Pony mare with an excellent pedigree. Her sire Going East and dam sire Nansen are both top producers in Germany. Her full brother was member of the Swiss team at the 2011 European Pony Championships. Gee Gee has been decorated with the state premium title.  She was first reserve for the German Bundeschampionate as a young pony.
She has no vices and is very easy to travel. She is well behaved at home and at shows.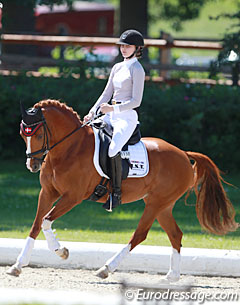 Gee Gee 2 is ready for a new rider, who wants a super pony with a lot of charisma and wants to be in the top of international dressage. 
Clear X-rays from December 2013 and September 2016.
Located in Denmark
Video on request
Owner Contact Info