Groom Wanted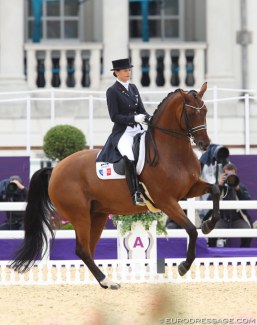 Jessica Michel-Botton, Olympic dressage rider and 23-time French Champion, is looking for a professional groom who can help in the care taking of her horses at the prestigious Haras de Hus in Petit-Mars, France.
Established in 2004, Haras de Hus is a state of the art facility which embodies the owner Xavier Marie's passion for horses. Haras de Hus is a stud farm, high performance barn for dressage and show jumping and has the highest ambitions of breaking through at the top Jessica Michel as dressage rider.  German coach Hans Heinrich Meyer zu Strohen assists in the training of the dressage horses.
Haras de Hus strives for a positive working atmosphere and sportmanship and team ethic are a priority. The candidate will work in a pleasant environment with a young team of four (Michel and 3 other grooms) to take care of 12 to 15 horses. 
The groom will be in charge of feeding the horses as well as the care taking of the horses in training. Duties include grooming, braiding, tacking up, putting the horses into the field, preparing the lorry to go to competitions and driving. Some lunging could be involved as well as hand-walking or occasional hacking of the horses. If s/he has good young horse riding skills, there will be an opportunity to ride occasionally.
The person needs to be engaged and willing to work. S/he needs to have experience handling stallions. A love and passion for horses are essential. The candidate has to be responsible in handling high-value horses. S/he has to be well-organized and professional on the job. Patience, calmness, eye for detail and a personal dedication to the job are requirements.
Salary will be officially paid and accommodation can be provided at the facility. Candidate can not bring horse nor dog, but cats are allowed.
The position opens up in March/April 2018 and is meant to be long-term.
A lorry driver's license is required.
To apply, please send your resume to :