2018 Piaff Forderpreis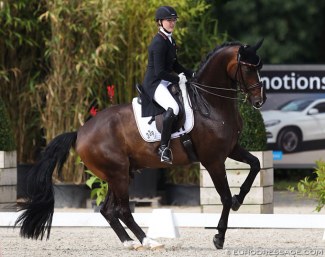 Grand Prix newcomer Hannah Erbe won the 2018 Piaff Forderpreis selection trial held at the DOKR headquarters in Warendorf, Germany, on 2 - 4 February 2018. Twelve combinations have been selected to compete on the 2018 Piaff Forderpreis show circuit, a special national show series for German Under 25 Grand Prix riders. The riders who are part of the Under 25 National Team are automatically qualified.
No less than 37 pairs were invited to participate in the 2018 Piaff Forderpreis training seminar and selection trial held in Warendorf based on a selection that preceded regional training seminars in each federal state this winter.  
The annual Piaff Forderpreis training seminar covers three days in which the aspiring German Under 25 riders present their horses to the Grand Prix team trainers and a select panel of judges. On the first day they train their horses together with their home coach and the team trainers Monica Theodorescu and Sebastian Heinze. These session are videotaped and discussed afterwards by Theodorescu. 
On the last day all participating pairs compete against each other and the highest scoring duos are invited to compete on the Piaff Forderpreis show circuit that year, per approval of the selection committee. It has happened before that the committee selected riders who were not the highest scoring ones, but who showed promise in the training sessions.
Short Grand Prix Competition
At the 2018 training seminar the 2017 European Young Rider Champion Hannah Erbe stormed to the top in the Short Grand Prix competition, scoring 73.837% aboard her Rhinelander gelding Carlos (by Carabas). The 18-year old Erbe is trained by Heiner Schiergen, who has been showing her horse at GP level in November and December to put mileage on him. 
Jil Marielle Becks and her home bred Westfalian gelding Damon's Satelite (by Damon Hill x Rubin Royal) were the second highest scoring pair with 70.194% despite the horse still struggling with the piaffe, followed by Marie-Sophie Ehlen on the Westfalian bred Dos Santos (by Don Bedo) with 70.00%. 
A pair to watch out for in the future is former pony team rider Hannah Cichos on the youngest horse of the bunch, the 9-year old Holsteiner Dias de Rio (by De Chirico x Aljano). Owned by Fritz Felix Sewing and previously competed at medium tour level by Simone Sewing, Dias de Rio has only been very lightly competed in his career but impressed in Warendorf under Cichos. The pair scored 68.992% to finish fifth.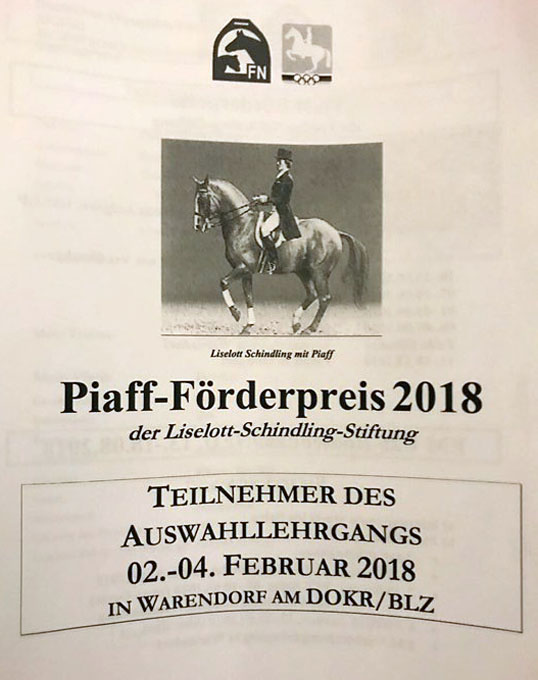 Nina Neuer also made an impressive debut on her recently acquired Hanoverian licensed stallion Don Darius (by Don Frederico x Markus Deak xx). They were 18th in the short Grand Prix with 66.367% but both horse and rider showed much talent for Grand Prix and have been picked up by the selectors for the April training seminar.
The class was judged by Kerstin Holthaus, Evi Eisenhardt, and Jurgen Koschel and there were often discrepancies between the three of them. Becks was ranked second with two judges and 9th with one judge. Hannah Cichos ranked from 3rd to 15th place. The biggest difference was to be spotted in the judging of Johannes Rühl on Dante. Trained by Gonnelien Rothenberger, Rühl scored 66.318% but placed fifth with one judge and 27th with another.
Selected Combinations for 2018 Piaff Forderpreis
In 2016 15 pairs were selected. One year later, in 2017, the amount was reduced to 14 pairs and for 2018 there is a further downsizing to just 12 combinations.
However, the five riders which are submitted to the German Under 25 squad are automatically qualified to compete on the 2018 series. They are Florine Kienbaum (Doktor Schiwago), Juliette Piotrowski (Sir Diamond), Bianca Nowag (Fair Play RB), Ninja Rathjens (Emilio) and 2017 Piaff Forderpreis winner Lisa Maria Klössinger (FBW Daktari).
German Under 25 team trainer Sebastian Heinze confirmed to Eurodressage that the U25 squad riders are allowed to start in the 2018 Piaff Forderpreis, but are not obliged. "They are more focused on competing internationally," he added.
The riders selected to compete on the 2018 Piaff Forderpreis show circuit via the training seminar and competition in Warendorf are:
Anna-Christina Abbelen - Henny Hennessy
Jil-Marielle Becks -  Damon's Satelite
Michelle Budde - Ribery
Hannah Cichos  -  Dias de Rio
Marie-Sophie Ehlen- Don Santos
Hannah Erbe - Carlos
Sabrina Geßmann -  Donovan
Lena Gundlage - Campino
Sophie Reef - Silencium
Jana Sabel  - Enjoy
Anna Magdalena Schessl - Biedermeier
Franziska Sieber - TSF Rosafina WRT
Preparatory Seminar and Qualifiers in 2018
Right before the Piaff Forderpreis show circuit kicks off, there will be another training seminar at the DOKR on 14 and 15 April 2018. Sebastian Heinze will be heading the seminar. 
Six additional pairs have been invited to participate in this preparatory training seminar: Michelle Budde on her second horse Richmond, Florine Kienbaum on Dorincourt, Anna-Louisa Fuchs on Rodrigos E.H., Nina Neuer on Don Darius, Bianca Nowag on Romanze D and Vivien Niemann on Don Vertino.
The 2018 Piaff Forderpreis circuit includes four qualifiers and a traditional finals in Stuttgart. The stations are:
CDI Munich (10 13 - May)
German Championships Balve (7 - 10 June)
CDN Verden (1 - 5. August)
CDN Ising (8 - 9 September)
Finals: CDI-W Stuttgart (14 - 18 November)
Past Piaff Forderpreis winners are Hubertus von Zedtwitz (2000), Ellen Schulten Baumer (2001, 2002, 2003), Maren Frychel (2004), Sinja Bolz (2005), Matthias Rath (2006, 2007), Marion Engelen (2008), Kristina Sprehe (2009, 2011), Marion Engelen/Jenny Lang (2010), Stella Charlotte Roth (2012), Nadine Husenbeth (2013), Charlott Maria Schurmann (2014), Sanneke Rothenberger (2015), Franziska Stieglmeier (2016), and Lisa Maria Klössinger (2017).
Results - 2018 Piaff Forderpreis Selection Trial
Judges: Kerstin Holthaus, Evi Eisenhardt, Jurgen Koschel
1. Hannah Erbe - Carlos - 73.837
2. Jil Marielle Becks - Damon's Satelite - 70.194 
3. Marie Sophie Ehlen - Dos Santos - 70.000
4. Sabrina Gessmann - Donavan - 69.612
5. Hannah Cichos - Dias de Rio - 68.992
6. Jana Sabel - Enjoy - 68.527
7. Sophie Reef - Silencium - 68.333
8. Franziska Sieber - Rosafina - 68.217
9. Michelle Budde - Ribery - 68.140
10. Anna Magdalena Schessl - Biedermeier - 68.101
11. Anna Christina Abbelen - Henny Hennessy - 67.868
12. Lena Gundlage - Campino - 67.597
13. Michelle Budde - Richmond - 67.442
14. Florine Kienbaum - Dorincourt - 67.016 
15. Vivien Niemann - Don Vertino - 66.899
16. Anna Louisa Fuchs - Rodrigos EH - 66.744
17. Bianca Nowag - Romanze D - 66.512
18. Nina Neuer - Don Darius - 66.357
19. Petra Middelberg - Barclay - 66.318
19. Johannes Rühl - Dante - 66.318
21. Annika Gutjahr - Sunny Girl G - 66.085
22. Leonie Richter - Sans Souci - 65.969
23. Sabrina Gessmann - Cuantano SL - 65.930
24. Sophia Funke - Diamond Rex - 65.271
25. Laura Reinke - Samba Queen - 64.884
26. Katharina Tascher - Sandro's Bud - 64.845%
27. Jessica Krieg - Special Edition - 64.496
28. Janet Agbers - Daniel Craig - 63.488
29. Cathrina Timpra Rasch-Günther - Fantastic - 63.372
30. Laura Reinke - Ragtime - 62.674
30. Saskia Schneppenheim - Graciah - 62.674
32. Mareike Flege - Walentina - 62.093
32. Maike Mende - Da Vncerico - 62.093
34. Raphael Netz - Shanti - 61.744
35. Philipp Paradiso - Sandro Star - 61.357 
36. Leonie Krull - Leia - 60.388
37. Nathalie Westphal - Devanto - 59.457
Photo © Astrid Appels
Related Links
Lisa Maria Klossinger Wins 2017 Piaff Forderpreis Finals
Franziska Stieglmaier Wins 2016 Piaff Forderpreis Finals for German Under 25 Riders
Sanneke Rothenberger Wins 2015 Piaff Forderpreis Finals for German Under 25 Riders 
Schurmann Wins 2014 Piaff Forderpreis Finals for German Under 25 Riders
Nadine Husenbeth Wins 2013 Piaff Forderpreis Finals at CDI-W Stuttgart
Stella Charlott Roth Wins 2012 Piaff Forderpreis Finals
Sprehe Defeats Favourite Engelen in 2009 Piaff Forderpreis Finals
Matthias Alexander Rath Wins 2006 Piaff Forderpreis
Ellen Schulten-Baumer Wins First Ever Piaff Forderpreis at 2001 CDI Stuttgart