F.O.C.U.S.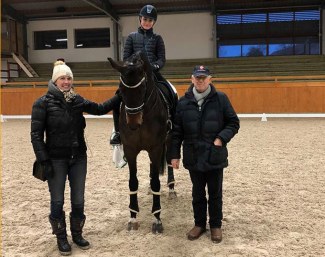 Youth riders from the Czech Republic have been working hard this winter to improve their form and skills through special training seminars and strategic consultation with German 5* judge Dieter Schüle. 
The Nürnberg based retired judge has passed the age limit to officiate at FEI competitions, but is still highly active in the world of dressage.He agreed to cooperate with the current and potential international Czech riders from the children to young riders level.
The idea of bringing his expertise to assist with the correct development of the Czech youth riders and also recognize and improve their potential to be competitive internationally originated with Czech international judge Gabriela Valerianova. 
"Dr. Schüle has so much experience to offer both from a judging perspective and he can also assist our youth riders as well as their trainers with tips on how to achieve their goals from a training point of view," said Valerianova. "It is exciting to have the opportunity to bring him to our country, where we have some rising internationally competitive riders together with some exciting horses."
Winter Training Sessions with Dieter Schüle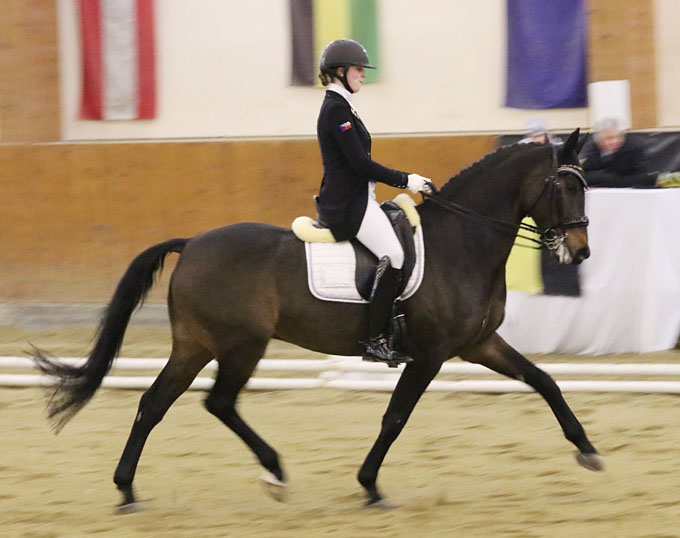 From 9 till 12 February the new equestrian center in Kralovice near Prague hosted the last training sessions prior to the start of the show season. Every rider received coaching not only for their training, but also for show planning for the season. Schule laid out a plan for the Czech kids to get experience ,especially for those moving up a level. He also stated preliminary ideas for teams and individuals that are candidates for the the European Championships in Fontainebleau this summer.
"We have seen several pairs that show promise as potential international contenders," said Schüle. "Of course we also focused on those that have already proven themselves at CDIs and are internationally successful such as Eva Vavrikova. I am looking forward to assisting the Czech riders at CDI Achleiten and hope to provide them with useful expertise."
All of the Czech international youth riders will have to ride at two mandatory CDIs, which are preliminarily set at the CDI Achleiten and CDI Brno.  Schüle will attend these events as technical advisor and the riders will get the chance to discuss their rides and assess if their training is heading in the right direction. Depending on their form and results, the riders will be nominated for the European Championships. The Czech Republic will not be able to field teams in all age divisions since there are not enough riders.
CDN Weikersdorf in Austria to Achieve Selection Scores
The criterium for international starts has been set at a double 63% at a CDN outside of the Czech Republic. This is why a group of Czech riders crossed the border and competed at the CDN Weikersdorf in Austria to achieve their selection scores.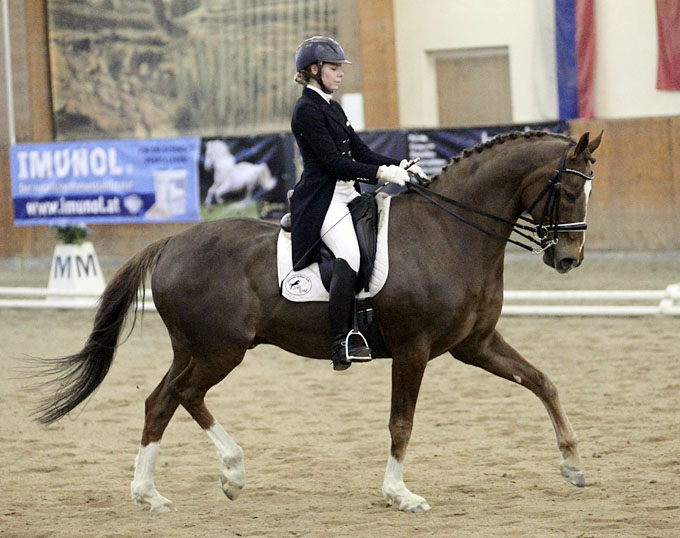 Experienced junior rider Eva Vavrikova has already been a top international contender in central Europe, so she went to put extra mileage on her new acquisition, the rising 7-year old Siracusa. On their first outing, they scored 69,5% in the team test (2n), while her number one horse Belle Ennie finished third place with 66,3% after a spook. In the individual tes, Eva was victorious with Belle Ennie on 70,0% but Siracusa got a bit too excited and made several expensive mistakes. They earned 66,7% (3rd).
A newcomer at international junior level, Eliska Skrivanova was able to score a solid 65,3% in the team test (6th) and 63,4% (5th) in the individual on only her second start at the level aboard Farewell.
Alexandra Hanackova made her young rider debut on Well Done with a respectable result of 65,4% (8th) in the Prix St. Georges and 63,2% in the individual test (6th).
All three youngsters are coached by Ema Kopuleta. "The girls presented their horses well and we have a good idea of where the main issues are and so how to focus our training before the first CDI competition of the season," said Ema. 
Related Links
Eva Vavrikova Acquires Hungarian WCYH Horse Siracusa
Czech Hana Vasaryova Going The Distance For Six Trophies at 2016 CDI Mallorca
Ema Jancarova, Czech Her Out
Ema Jancarova and Athos Named 2012 Czech Rider and Horse of the Year
Sarka Charvatova and Saint Tropez, Czech Small Tour Victors at 2014 CDI-W Brno