The Netherlands
Tango, Hans Peter Minderhoud's international Grand Prix horse alongside Nadine in the early 2010s, has been euthanized. The horse was 18 years old. 
"He had long suffered from a chronic illness, which had been treated by specialists over a protracted period," owner Glock stated. "On the advice of the veterinarian giving treatment, we have let him pass on in order to spare him prolonged suffering."
Tango was bred by the late, renowned KWPN breeder Huub van Helvoirt and was by Jazz out of O Bertje (by Contango x Amor).
He was licensed with the KWPN society in 2003 and did his KWPN Stallion Performance Test in 2004 and scored 7 for walk, 9 for trot, 7 for canter and 8 for potential. From a breeding perspective, Tango's most famous offspring are Brittany Fraser's Pan Am team horse All In and the deceased small tour horse Zizi Top.
As a 3-year old he came into training with Hans Peter Minderhoud. They first stepped out into the international spotlight at the 2005 World Young Horse Championships, where they won the consolation finals to end up 10th int he Finals for 5-year olds with a 7.78 score.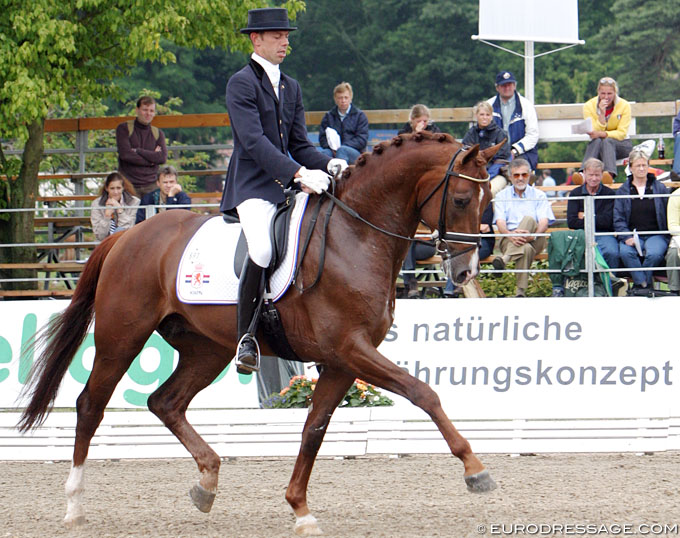 They made their international show debut in 2009 at small tour level and moved to Grand Prix level in 2010.
Their busiest show year was in 2011 when they became the Dutch Indoor and Outdoor Grand Prix Champions. In 2012 Austrian Gaston Glock signed a 10-year sponsorship with Hans Peter Minderhoud and his first act in support was purchasing Tango for him to ride. The pair's career highlight was finishing 6th at the 2012 World Cup Finals in 's Hertogenbosch. Their 2013 world cup circuit was interrupted after a withdrawal from Den Bosch, but then went on to do just two outdoor shows (Roosendaal, Rotterdam). Nine months later the duo competed at their final competition: the CDI Barcelona in March 2014, where they were fourth in the Grand and second in the Kur.
Tango struggled with a tendon issue and unfortunately was never able to return to full show fitness. He was 14 when he competed in his last show.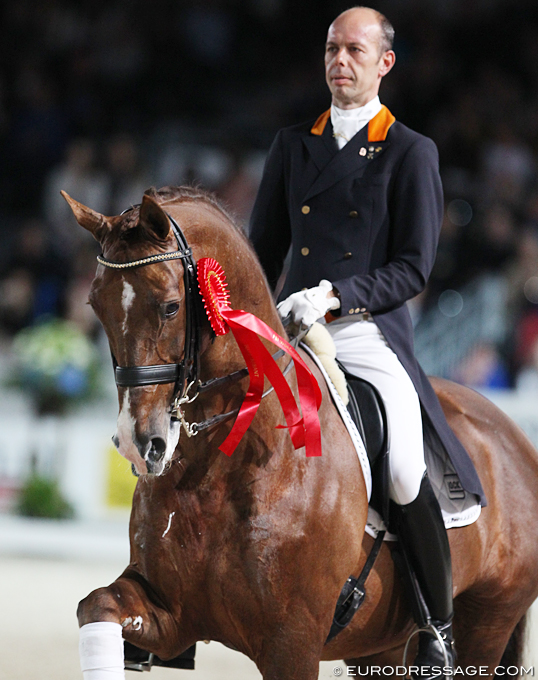 "He was good-natured yet cheeky at the same time," said a saddened Minderhoud about Tango. "He was a horse with a great personality and very special for me, because he was the horse who accompanied me from when I embarked on self employment. He was my first horse when I set myself up as self-employed. I relocated many times and he was always there (...). He was a big part of my life and my career. It is a pleasure to be able to experience how a horse can develop from a young, timid and anxious creature into a horse that's even a little macho, like Tango was later on. As a youngster he was frightened by applause, but a little later he started to enjoy it. I can only say 'thank you' for many wonderful years and 'farewell'. We will miss him."
Photos © Astrid Appels
Related Links
Eurodressage Photo Database: Tango
Glock's Tango to Stay with Minderhoud at Least Until August 2012
Minderhoud, Witte-Vrees, Krooswijk and Te Riele Proclaimed 2011 Dutch Dressage Champions
Minderhoud and Maas Grab the Titles at the 2011 Dutch Indoor Dressage Championships
Minderhoud Wins World Cup Opening Round at 2011 CDI-W Odense
Minderhoud and Tango Win 2011 CDI Zwolle Grand Prix
Austrian Gaston Glock Signs Minderhoud, Gal and Werner for Ten Years
Tango Wins 2010 VHO Trophy
Huub van Helvoirt Passed Away