Stallion at Stud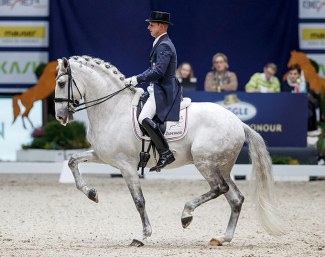 Name: Dragao das Figueiras
Breed: Lusitano
approved for Lusitano (APSL), Oldenburg (GOV) 
Year of Birth: 2008
Sire: Unico
Dam: Valeria
Dam Sire: Xaquiro x Invulgar
Height: 16.2 h
Stud fee: Insemination fee 1,000 euro + in foal fee 1,000 euro
frozen semen on request
Dragao das Figueiras does not only let the hearts of Lusitanos breeders beat faster. Only in a short time he took over the international Grand Prix scene under Sascha Schulz and thanks to his majestic appearance, tremendous will to perform and great ability of collection he is highly desired by the warmblood breeders.
Presented by Jose Antonia Garcia Mena/ESP with high success, first in the international young horse tour and later in the small tour, Dragao des Figueiras debuted in March 2017 as a nine-year-old with Severo Jesus Jurado Lopez/ESP in the Grand Prix arena. Under Sascha Schulz he then won the Luxembourg Championship, placings in Mannheim, Achleiten/AUT, Pompadour/FRA, Cappeln, Le Mans/FRA, Munich, Geneva/SUI and as the highlight of the season: 3rd place at the Grand Prix and rank four in the freestyle at the CDI5* in Madrid/ESP. This makes Dragao das Figueiras the most successful Lusitano of his age class.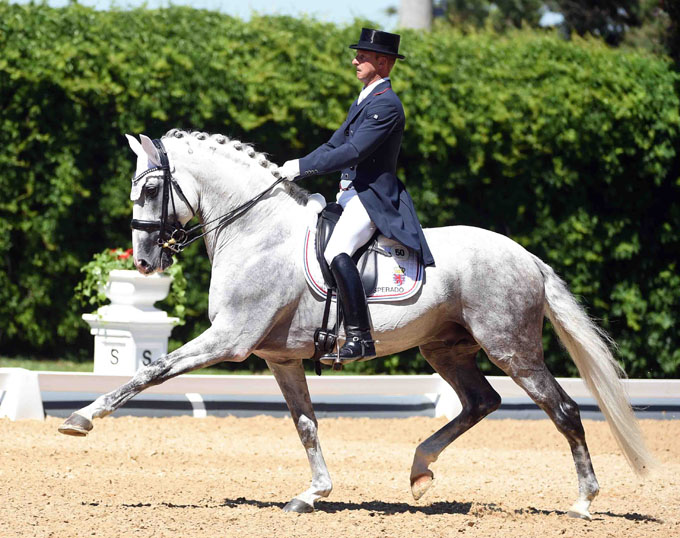 Only one look at the pedigree and you see the valuable inbreeding component of the sire Xaquiro. Already as a young stallion he was awarded premium multiply and completed his licensing with a top score of 80 points. Thanks to his offspring, among them the sons Rouxinol, Oxidado, Toxico, Quixote and Spartacus, the Olympia participant Oxalis da Meia Lua/Miguel Ralão Duarte/POR as well as the mother of the Olympia freestyle 16th Rubi/Gonçalo Carvalho/POR, he reached the highest breeding value with over 95%.
He is the only stallion of the Portuguese Lusitano Breeding Association to obtain the title "Recommended stallion with six stars". 1988 he won Gold at the International Lusitano Festival (FIPSL) in the stallions category and 2004 in the stallion progeny category. 2010 Xaquiro was awarded the title "Outstanding Sire". Dragao is also the only Lusitano stallion to be approved by the German Oldenburg Verband. 
Both Dragao das Figueiras' sire Unico and his dam Valeria come from the mare Sevilha by Firme in third generation. Unico, even though he was not able to compete due to an injury in early years, he sired a lot of successful offspring. He is the half brother of the European Championship participant and World Cup placed Batuta (by Quixote)/Gonçalo Carvalho/POR and to Altiva/ António Simoes/POR who was driven at the Double harness World Championship.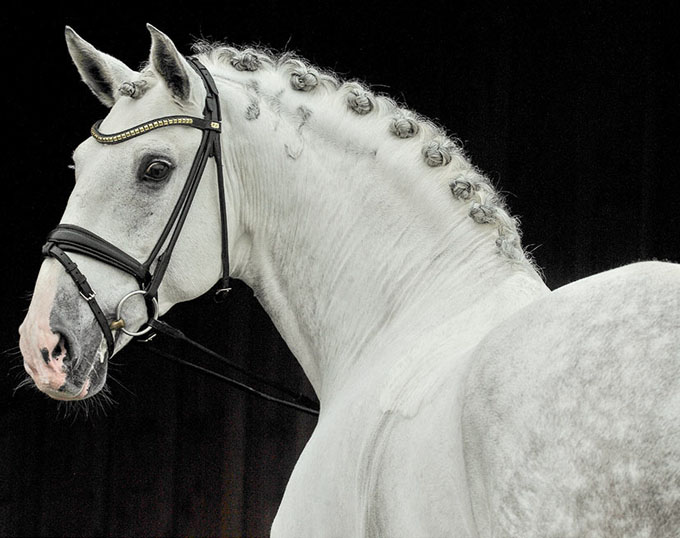 Semen Order Form 
Stallion Station Contact Info
Dressage Grand Ducal
75, rue de Cessange
L-3347 Leudelange
Luxembourg
Tel: Christof Umbach + 352 621351892