U.S.A.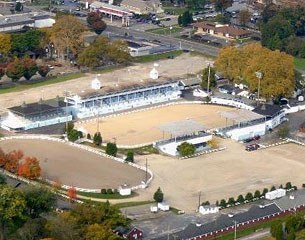 The show organization of the CDI Devon and Devon Breed Show has announced a schedule change for the Breed Show division of 2018.
In past years, breeds from Hanovarians and Andalusians to Cleveland Bays, Fiords, Gypsy Vanners, Drum Horses, Knabstruppers, Georgian Grands, and Dales Ponies have paraded in the Dixon Oval, showing off the best of the breeds on the last day of the breed show.
Dressage at Devon has made significant changes to the scheduling of the three days of breed classes. The Individual Breed classes (IBC) have been moved to the first day of the show, Tuesday September 25 instead of Thursday.  This change will allow for a more relaxed time schedule and also will give the IBC horses a chance to warm-up in a less congested area.  
"We believe these changes will result in a better showcase for the individual breeds and provide an excellent opportunity for those horses that also show in the open classes on Wednesday to experience the "Devon atmosphere," said Breed Show Chair, Melanie Sloyer.  
"The Tuesday schedule will also include the group classes such as Breeders Group, Get of Sire, and Produce of Dam. This scheduling change will also allow us to reintroduce the popular Parade of Breeds at the conclusion of the IBC classes.  The winners of each IBC class will be invited back into the Dixon Oval to receive a special Dressage at Devon rosette. The Parade of Breeds has always been a crowd pleaser so we are very excited to offer it again in 2018," added Sloyer.
Young (sport horse prospects), Mature (Breeding Stock) horses, and Materiale (under saddle) classes will be held on Wednesday, September 26.  These classes will be qualifiers for the Dressage at Devon Championships and the United States Dressage Federation Breeders Championships - East Coast Series. Championships will be held on Thursday.
Related Links
Danae MF, Grand Champion of the 2017 Devon Breed Show
Louisville HTF Named Foal Champion at the 2017 Devon Breed Show 
Stenagers Welina Reclaims Title, Named Grand Champion of the 2016 Devon Breed Show
Stenagers Welina, Grand Champion of the 2015 Devon Breed Show
Danseuse MF, Grand Champion of the 2014 Devon Breed Show
Sanibelle, Grand Champion of the 2013 Devon Breed Show
Beatrice VDL Named 2012 Devon Breed Show Grand Champion
Rheporter Claims 2011 Devon Breed Show Grand Champion's Title
Rabiola Renews Grand Champion's Title at 2010 Devon Breed Show
Rabiola Scores Hattrick at 2009 Devon Breed Show
Quarterback Offspring In the Ribbons at 2009 Dressage at Devon
Coverage of 2001 Dressage at Devon