2018 World Cup Finals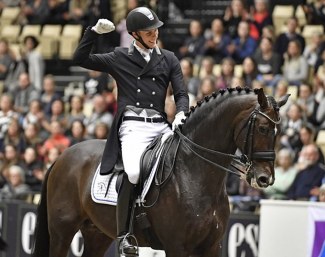 The Danish owned KWPN licensing champion Blue Hors Zack has been making his mark in breeding and sport in his coming-of-age year 2018. Under Daniel Bachmann Andersen, the 14-year old stallion has achieved personal best scores in Salzburg and Neumunster and is one of the frontrunners at the 2018 World Cup Finals which kick off Friday 13 April 2018.
Bachmann Andersen and Zack made their show debut at the CDI Hagen in April 2015 and campaigned at small tour level for one year which clear victories in Odense and Herning. They moved up to Grand Prix level in Herning in March 2017 and have slowly been climbing the ladder with improving results. The pair really found its stride during the 2017-2018 Western European League world cup season and clocked impressive results with best scores of 75.020% in the Grand Prix at the CDI-W Salzbug and a whopping 81.475% in the 2018 CDI-W Neumunster Grand Prix Freestyle.
The 27-year old Bachmann Andersen admitted that he has been riding with tunnel focus this winter season, after having set a clear goal for himself aboard Zack. 
"I had a goal to qualify and I was really determined to get it and then Zack just got better and better through the shows and I got to know him better to from show to show," said Bachmann, who is now representing Denmark for the second time at an (inter)continental championship, after riding on his team at the 2015 European Championships in Aachen (on Blue Hors Loxana).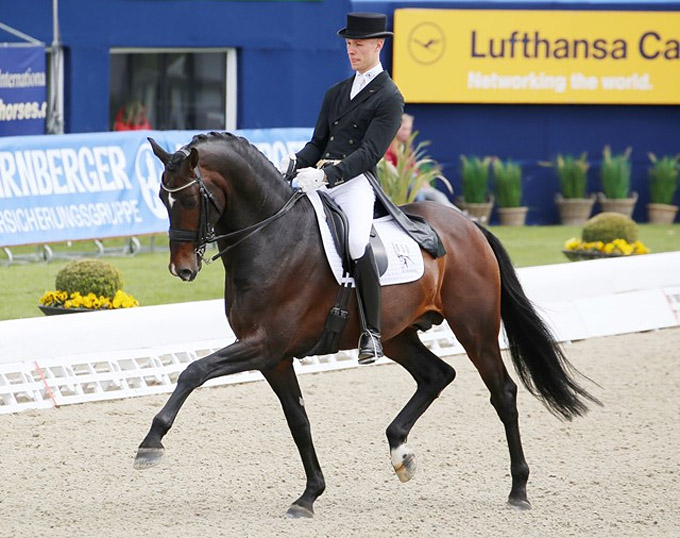 Zack certainly has become the star of the barn with his recent results, as well as his successes as a breeding stallion. Daniel praises the bay's rideability as his forté. 
"Zack has an extremely good character and he loves to perform and he always try's he's hardest even though some things has been difficult for him," said Daniel. "Plus he is just getting better and better bit by bit."
Daniel feels a fond connection with the laid-back stallion, who gets pampered by world famous groom Robbie Sanderson. When asked what Zack would tell Daniel if the horse were to speak, the rider quipped: "Zack would say, "take me to a new show again." He loves being at the shows and get all the attention from Robbie and I.
And he would probably ask for some more sugar and a good scratch under the head. He loves that."
Only rarely does it happen that a breeding stallion ends up in the same competition arena at the same level as his progeny. For Blue Hors Zack it happened the first time at the CDI-W Amsterdam in January, but all eyes are on the 2018 World Cup Finals in Paris this weekend, where Zack will meet son Zonik (Edward Gal) again for the first time in an intercontinental championship. 
Zack was the 2007 KWPN Stallion Licensing Champion. He is by Rousseau out of Orona (Jazz x Belisar). Bred by B. Wilschut, Blue Hors stud purchased the then 3-year old colt at the KWPN Select Sale auction for 430,000 euro. As a youngster he was shown between 2009 and 2013 at five national shows under riders Sune Hansen, Allan Gron and Maik Kohlschmidt.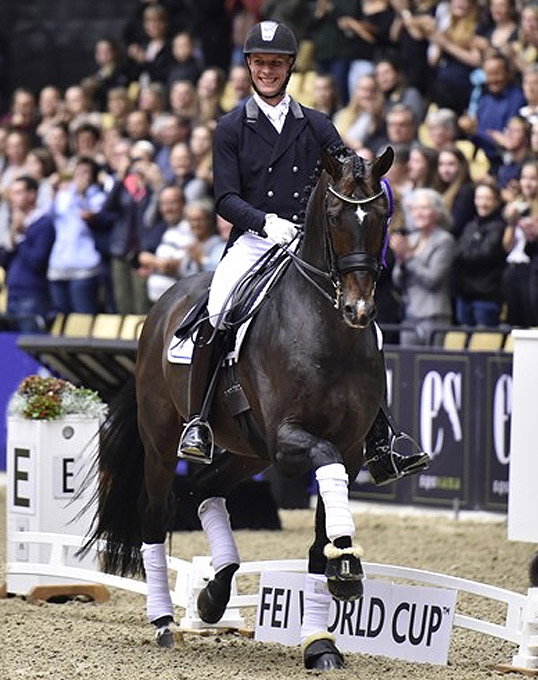 As a breeding stallion he has stamped Danish warmblood breeding with 34 licensed sons so far, including triple young horse world champion Sezuan and 2016 Westfalian reserve licensing champion Zoom. He also produced Skovens Tzarina (Danish Warmblood mare champion 2017) and Straight Horse Sezuanna (Mare of the Year in Danish Warmblood 2016). The Danish Warmblood society proclaimed Zack elite sire and 2014 Stallion of the Year.  Most recently Zack came into the spotlight as the sire of the 2018 Oldenburg Saddle Licensing Champion Zac Efron and sire of Karabella, the 2018 Oldenburg Elite Auction price highlight Karabella.
Daniel has trained numerous Zack offspring, amongst them Zackerey, Zalabaster and Zee Me Blue.  When asked what typifies Zack offspring, Daniel replied, "they have a super character, a good health. They are sensitive in a good way. The most of them are a little late developed, which means you have to wait for them and then suddenly they give so much."
Bachmann has been working diligently on improving and fine-tuning the Grand Prix work with Zack for a peak performance at the 2018 World Cup Finals in Paris. 
"We have worked on getting the piaffe a little bit more on the spot, of course in a positive way, and I think he has improved on that," said Daniel. "So I hope to bring it into the test."
Photos © Ridehesten
Related Links
Bachmann Andersen and Blue Hors Stallions Enthuse Herning Crowds
Zack Proclaimed Danish Stallion of the Year 2014
Zack Achieves Record Price at 2007 KWPN Select Sale
Zack, Champion of the 2007 KWPN Stallion Licensing