Bits 'n Pieces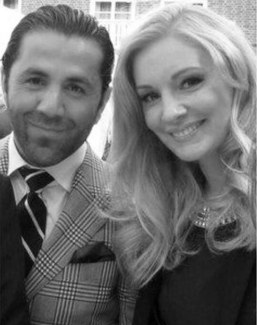 Maaike Schlümer, manager of the beautiful equestrian lifestyle and clothes brand No Concept, got engaged to her long-time partner Dr. Med. Farzam Khalilian. He  surprised Schlümer with a video message from Mount Kilimanjaro while Maaike was out on the town with her girlfriends. Khalilian suddenly appeared from behind the tv-screen, got down on his knee and proposed to her with a beautiful cushion cut diamond ring. The Hamburg based Iranian heart surgeon Khalilian and Schlümer have known each other for 13 year and have been together for eight. Congratulations!
Dutch young rider Febe van Zwambagt has decided to quit as an assistant rider at Ferienhof Stücker and take on a riding job at Alex and Diederik van Silfhout's stable. Van Zwambagt officially worked for Stucker in Germany for one year. 
De Hoefslag reported that Lynne Maas has relocated her business to Rob Willemse's equestrian centre Delfgauw. The Grand Prix level rider was tired of facing the daily commute and traffic jams to her previous base, Selevia Hoeve in Werkendam, The Netherlands. Maas recently ended her engagement to and relationship with former Dutch team rider Laurens van Lieren and no longer sees the benefit of working in Werkendam. Maas and Van Lieren have one son together, Brent.
World Young Horse Champion Mare Victoria's Secret (by Vitalis x Fidermark) has become a mom. The liver chestnut mare produced a Franklin filly, named Valerie, by embryo transfer. Victoria's Secret was bred and flushed last year after she sustained an injury. Another embryo, this time by For Emotion, has been flushed this year for an ET foal in 2019. Victoria's Secret has recovered from injury and is being ridden by Anna Kasprzak's assistant trainer Josefine Hoffmann as Anna is on a riding break, pregnant with her first child.
Danielle van Mierlo's small tour horse Evita Utopia (by Jazz x Gribaldi) has been operated on for colic. The 9-year old mare showed colic signs and was transported to the Utrecht equine clinic where she was operated on for a torsion. The mare is recovering well.
A fire broke out at Paul Schockemohle's Gestut Lewitz in Neustadt-Glewe, when an automatic feeder short-circuited. Smoke came out of the machine and then it caught fire. The fire brigade had to come to the scene to extinguish the fire. No horses or humans got hurt. The estimated damage is 300,000 euro.
Australian dressage has farewelled a stalwart of the sport at the second day of the 2018 CDI Sydney. Described as "one of the most significant riders, judges, administrators and coaches Equestrian Australia has ever known", Joy Charlton officially marked her retirement from judging during a special presentation at the end of the day. Charlton was given a special memento and her long list of achievements in the sport were read out to the assembled crowd during the presentation. "It's just an honour to be able to be here tonight to see how this event has grown from when I started our first FEI weekend at Lochinvar," she said. "I just feel so proud that we started it all off, because they told me I was crazy, that we'd never get the FEI horses. But we got 21 after three years and it was just amazing. It's been an amazing career and I am going to really miss it."
At the wonderful age of 29, Iron Spring Farm's leading brood mare Hivona (by Consul x G Ramiro Z) has passed away. Imported as a yearling soon after Iron Spring Farm bought her sire Consul, Hivona was an accomplished sport horse and exceptional broodmare. She retired after nine top-quality ISF foals and assisted Penn Vet's New Bolton Center in training new vets and being the "star" of their robotics-controlled imaging system. Hivona and her wonderful bloodlines live on at ISF through her Elite daughter, Andorra ISF.
De Hoefslag reported that Dutch young rider Mercedes Verweij had to say goodbye to her 4-year old youngster Jealous Dancer (by Expression), who suffered a severe hoof injury in a freak accident in the walker and could not be saved. The horse's hind hoof got stuck between the partition panels. Verweij owned the gelding in partnership with Gert Willem van Norel and had him in her barn for one year.
Dutch Grand Prix trainer Nicole Werner celebrated her 50th birthday in April. Werner, who is the business manager and eyes on the ground for Edward Gal and Hans Peter Minderhoud, celebrated the joyous occasion with a lavish golden theme party in attendance of their friends and family.