Slovenia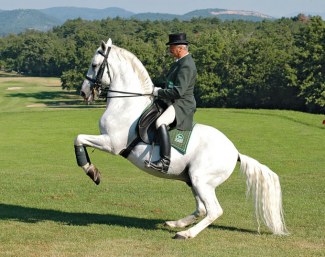 The Eastern European League World Cup qualifier at the the Lippizaner state stud in Lipica, Slovenia, has been canceled. The CDI-W Lipica was supposed to take place 25 - 27 May 2018.
The show organisation cited the outbreak of rhinopneumonia (equine herpes virus) in several countries of Europe as reason for canceling the show.
"It was decided so, because of the FEI Veterinary Department information about the outbreak of the Equine Herpes Virus in western France," the Lipica Stud Farm Team told Eurodressage.
Lipica houses the famous Lippizaner stud and brood farm. Not willing to expose the herd to herpes, the organizers canceled the CDI 3*.
"Lipica is the original stud farm of the Lipizzan horse breed, currently in the process of registration onto the UNESCO World Heritage List," they explained. "Therefore our breeding herd is of an exceptional value and importance to the Republic of Slovenia, which is the founder of the Lipica Stud Farm. With regard to the proximity of the breeding herd and total population of Lipizzan horses in Lipica to the stabling area for competing horses and hippodrome, we decided to take all necessary measures to decrease and possibly eliminate the possible viral infection of our horses."
The CDI-W Lipica is the third major international in the spring of 2018 being canceled. The CDI Saumur was canceled for the herpes virus, the CDI Roosendaal was canceled due to financial restructuring.
Photo © Lukasz Kowalski
Related Links
Scores: 2017 CDI-W Lipica
Photo Report: Krinke-Susmelj Earns World Cup Points at 2015 CDI-W Lipica
Days of European Stud Culture at Lipica
Scores: 1998 CDI-W Lipica