2018 Bundeschampionate Qualifier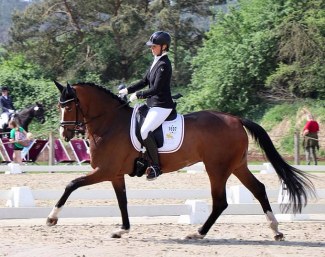 The 5-year old Feel Free OLD and the 6-year old Fiavola were the winners of the Bundeschampionate qualification classes held at the regional show in Scharnebeck on Thursday 10 May 2018. 
In the 5-year old division, judges Cornelia Albrecht, Heidi Dörler and Julia Graalfs favoured German Grand Prix B-squad rider Bernadette Brune on her Oldenburg mare Feel Free OLD (by Foundation x Sandro Hit). The pair scored a winning mark of 8.5 with an 8.5 for walk, trot and canter, 8 for submission and 9 for general impression. Brune discovered Feel Free OLD as a foal and has been riding training the youngster with the dedicated help of her assistant rider Anja Engelbart. Shereena Satzer and Helmut von Fircks' Hanoverian gelding Scofield (by Sir Donnerhall x Rubinstein) were the runners-up with 8.3. 
Only six horses contested the 6-year old dressage horse class in Scharnebeck and just four of them completed the test with two pairs retiring. Nadine Husenbeth steered her 2017 World Young Horse Championship finalist Fiavola (by Foundation x Weltmeyer) to victory in the M-level dressage horse test. She edged out Christin Hilger on the Oldenburg gelding Rock Emotion (by Rock Forever x Don Gregory).
Results - 2018 Bundeschampionate Qualifier - Scharnebeck
5-year olds
1. Bernadette Brune - Feel Free OLD (by Foundation / Sandro Hit) - 8.5
2. Shereena Satzer - Scofield (by Sir Donnerhall I / Rubinstein) - 8.3
3. Vera Nass - Ballando (by Benicio / Le Primeur) - 8.1
4. Sabine Oberdieck -  Special Selection (by Imhotep / Consul) - 8
4. Kim Sarah Kleis - Damon de Luxe OLD (by Damon Hill / De Niro) - 8
6. Dominic­Nathanael Erhart- Der Donnerstag (by Dimaggio / Londonderry) - 7.5
6. Marleen Wigger- Benicia (by Benicio / Dancier) - 7.5
8. Christin Hilger - Fifth Avenue (by For Compliment / Lord Loxley) - 7.3
8. Maren Bentes - Heideprinzessin (by Heinrich Heine / Weltruhm) - 7.3
10. Jacob Schenk - Fernando (by Foundation / Danone II) - 7.2
11. Malin Weiß - Fabulous G (by Fürstenball / Rotspon) - 6.9
12. Dominic­Nathanael Erhart - Fiorello KJ (by Fürst Romancier / Londonderry) - 6.8
13. Miriam Garbe - Favorica (by Fürstenball / Sir Donnerhall) - 6.5
14. Lara Spissak - Sensation SP (by San Amour / Rohdiamant) - 6.3
14. Christin Hilger- High Cloud (by Hochadel / Wolkentanz I) - 6.3
Miriam Garbe - Quaterhalls Lightning (by Quaterhall / Wolkenstein II) - RET
6-year olds (no scores posted on the official website, just the ranking)
1. Nadine Husenbeth - Faviola (by Foundation x Weltmeyer)
2. Christin Hilger- Rock Emotion (by Rock Forever x Don Gregory)
3. Frank Lange - Belvedere (by Belstaff x Lifestyle)
4. Christin Hilger - Lord Fauntleroy (by Lord Loxley x Riccione)
Vanessa­ Sarah Hahnrath - Quiddity (by  Quatergold x  Don Romantic) - RET 
Jacob Schenk - Sebastian (by Sir Donnerhall x Light and Easy) - RET 
Related Link
Eurodressage coverage of the 2018 Bundeschampionate