Spain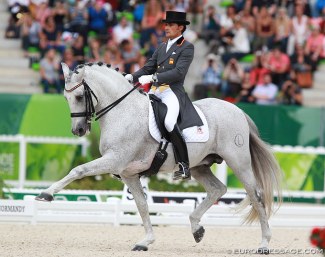 Jose Antonio Garcia Mena's retired Spanish Grand Prix dressage team horse Norte is being auctioned in a special PRE sale in Jerez de la Frontera, Spain, on 13 May 2018. 
The 18-year old stallion Norte has been submitted to the auction by his owner, Yeguada Lovera, as part of an 11-horse collection of youngsters, and he will be sold to the highest bidder.
The 2000 born PRE stallion is by Cortesano VII out of Iluminada VII (by Aquiles III).
Under Jose Antonio Garcia Mena, the grey Norte was a fixed member of the Spanish team. They made a strong first team performance at the 2010 World Equestrian Games in Lexington, Kentucky, as the second best scoring Spanish duo behind Munoz and Fuego. Shortly after the CDI Vejer in March 2011, Norte sustained a severe injury and it took him almost two years to return to the show ring at the CDI Vejer in February 2013. He won the 2013 Spanish Grand Prix Championships and he represented Spain at a three further championships: the 2013 European Championships, 2014 World Equestrian Games and 2015 European Championships. 
Norte has been retired from sport in 2015 as he struggled with staying show fit. He stood at stud at his owner's place in Cordoba, Spain. 
Friends of Jose Antonio Garcia Mena have started a crowd funding campaign to buy the stallion at the auction and grant the horse a proper retirement at Garcia Mena's stable. 
"A big part the Spanish dressage community despises this idea (of Norte being auctioned), as we think that the horse deserves a proper retirement, something which can't be assured in an auction," Luz Bella Lendinez Martinez told Eurodressage. "Therefore, we have started a Gofundme campaign so as to gather funds that could help us purchase the horse and return it to Jose, who would give him the retirement he deserves. In case not enough funds are gathered to purchase the horse, these will be donated to the Spanish Para Equestrian association, with which Jose has collaborated in previous occasions."
So far 1,165 euro has been raised in 7 days.
Photo © Astrid Appels
Related Links
Eurodressage Photo Database: Norte
Jose Antonio Garcia Mena's Norte Retired from Competition
Jose Antonio Garcia Mena and Norte Win 2013 Spanish Grand Prix Championship
Garcia Mena and Norte Bring Dash to the Arena at 2011 Sunshine Tour