2018 Bundeschampionate Qualifier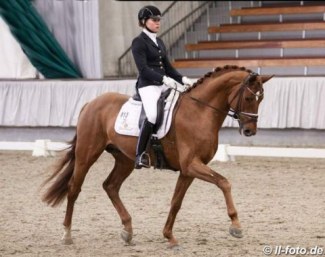 The 5-year olds Akuna Matata CH and Dimitroff MT, and the 6-year old Villeneuve became the winners of the Bundeschampionate qualification classes held at the regional show at Hofgut Petersau in Frankenthal, Germany, on Friday 11 May 2018. 
In the 5-year old division judges Knut Danzberg, Pascal Strohbücker and Friedelinde Kohl saw two winners in a class of nine horses. They rewarded the winning combinations an 8.1 total score. They were Lisa Marie Koch on Claud Hillebrecht's Westfalian mare Akuna Matata CH (by Arpeggio x Lanciano) and Laura Strobel on Sissy Max-Theurer's Hanoverian stallion Dimitroff MT (by Dimaggio x Brentano II).  Hendrik Lochthowe steered Ralph Uwe Westhoff's Oldenburg mare First Lady (by Foundation x Breitling W) to a third place with 7.7.
In the 6-year old age category, judges Anne Rossbach, Marco Orsini and Knut Danzberg asssessed thirteen pairs and favoured Laura Strobel on Sissy Max-Theyrer's Rhinelander stallion Villeneuve (by Vitalis x Dancier). The pair won the class with 8.3. Katja Galmbacher was the runner-up on her home bred Scarosso (by Sandoro x Wolkenstein II) with 8.2 and she also finished third with the Bavarian bred Boss Hoss (by Belissimo M x Romanov) on 8.1.
Photo © LL-foto
Results - 2018 Bundeschampionate Qualifier - Frankenthal
5-year olds
1. Lisa Marie Koch - Akuna Matata CH (by Arpeggio x Lanciano) -  8.1
1. Laura Strobel - Dimitroff MT (by Dimaggio x Brentano II) -  8.1
3. Hendrik Lochthowe -  First Lady  (by Foundation x Breitling W) -  7.7
4. Kim Hanna Heininger -  Lütter Lord Loriot (by Lord Leopold x Dr.Jackson D) -   7.4
5. Bianca Helmling - Qui'Well (by Quaterhall x Abanos) -  7.2
6. Mandy Zimmer - Symphony MZ (by Sir Donnerhall I x Fürst Heinrich) -  7.1
7. Lisa Marie Koch - Snowman FS (by San Amour x Donnerruf) -  6.9
8. Charline Wetzler -  Dresscode (by Destano x Friedensritter) -  6.8
9. Julia Goßmann - Cassidy Rock (by Rheinklang x Caprimond) -  6.6
6-year olds
1. Laura Strobel - Villeneuve (by Vitalis x Dancier) -  8.3
2. Katja Galmbacher - Scarosso (by Sandoro x Wolkenstein II ) -  8.2
3. Katja Galmbacher -  Boss Hoss (by Belissimo M x Romanov) -  8.1
4. Mandy Zimmer - Dragon Welt MZ (by Dancier x Weltmeyer) -  8
5. Stefanie Lugge­ Kerner - Beltani (by Belissimo M x Wolkentanz II) -  7.4
6. Johannes Lieb- Royalin P (by Royal Doruto x Hochadel) -  7.3
6. Lisa Marie Koch -Deichprinz (by Dancier x Don Frederico) -  7.3
6. Johannes Lieb -  Daily News (by Daily Deal x Fürst Heinrich) -  7.3
9. Bianca Helmling -  Quatanos (by Quaterhall x Abanos) -  7.2
10. Nina Kudernak - Queolito (by Quaterhall x Fürst Romancier) -  7.1
11. Charline Wetzler - Viva­la­Vida (by Vitalis x Rock Forever) -  7
12. Sandra van Loon - Decamerona (by Decamerone x Sion) -   6.9
13. Arjan van Loon - Donna's De Mijne (by  Zack x Don Schufro) -  6.7
Related Link
Eurodressage coverage of the 2018 Bundeschampionate