Oldenburg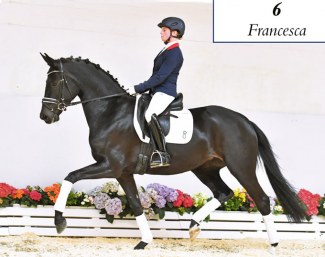 Our Oldenburgs are now in training and ready to be tried out. On Saturday 2 June 2018 the 64th Summer Mixed Sales will be held at the Oldenburg Horse Center.  Vechta is calling for you, offering sport partners for the dressage ring. Many of these charming dancers are distinguished by their first successes in youngster sport. The interesting bloodlines and the finest riding traits of these talented Oldenburgs promise a successful career in sport in the future.
Auction date: 2 June 2018
Site of the auction: Oldenburg Horse Center Vechta
Horses can be tried out as of: Thursday, May 24th
Contact:
Thomas Rhinow: +49 (0) 44 41-93 55 15 or rhinow.thomas@oldenburger-pferde.com
Daniel Pophanken: +49 (0) 44 41-93 55 895 or pophanken.daniel@oldenburger-pferde.com
Among the dressage horses in the summer collection is a black pearl named Delivery by Destano - Pik Noir - Pik Solo, Cat. No. 2. The dam of this five-year old gelding is a sister of the successful 4th level dressage horse, Dark Velvet by Dionysos ridden by Friederike Martin. The great granddam, Margherita, is the dam of Magie Noir by Pik Noir, who successfully competes in Intermediaire I under Ines Reyer. A sunny boy for the big time dressage ring.
Cat. No. 6 is a diva named Francesca (by Franziskus - Stedinger - Don Primero). Her dam Sevilla Primera is the dam of two licensed stallions, Van Primero (by Van Vivaldi) and Kardinal (by Krack C). Granddam Diva Primera is a sister of World Champion and star sire Dimaggio and a successful 4th level dressage horse named Werther's Echte (by Werther), ridden by Bärbel Geppert. This daughter of the highly praised Grand Prix star, Franziskus, is an eye-catcher.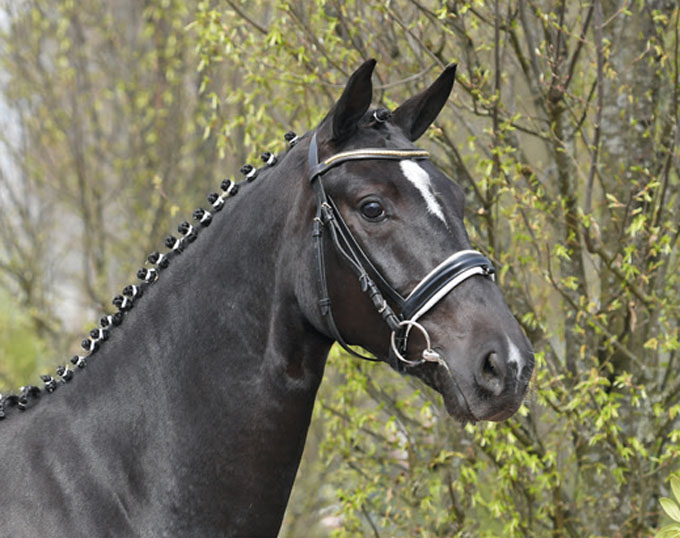 A guarantee for breeding and sport: So Lucky (by Surprice - Don Gregory - Rubinstein I). Her dam Bijara is the sister of a successful Grand Prix horse named Sir Rubinstein (by Sunny-Boy), ridden by Peter Josef Altdorf, and of Chess Royal (by Charming Boy) under Kathrin Siemenroth. An exclusively bred model in a dark jacket for the dressage ring.
Do you like our black pearls?
Starting on Thursday, May 24th, these talented youngsters will be ready for trying out at the training center. Make an appointment for this with one of our friendly consultants at the Oldenburg Horse Center. The Oldenburg team will be glad to help you find a gem from Vechta.
The Elite foal collection is full of outstanding foals from the current crop. Star sires such as Diamond Hit, Vitalis, Escolar, Foundation, Bonds and Totilas combined with the best, well-bred mare lines will be presenting their offspring in Vechta's auction ring.
Don't miss the highlights of the new foal crop!
Click here to go directly to the 64th Summer Mixed Sales collection. 
You can also order a printed catalogue from the Auction Office Vechta.
It is also possible to purchase your favorites very easily by phone. Please contact one of the following employees of the Oldenburg Auction Office for this: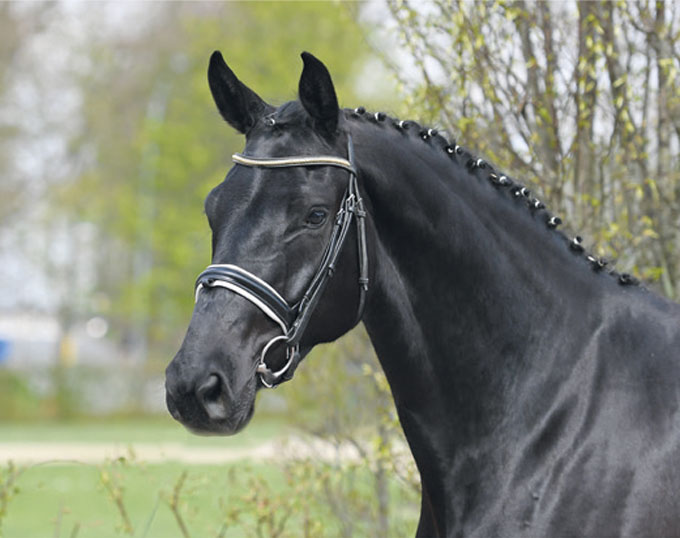 Consulting and customer service:
Dressage horses:
Thomas Rhinow: +49 (0) 44 41-93 55 15 or rhinow.thomas@oldenburger-pferde.com
Daniel Pophanken: +49 (0) 44 41-93 55 895 or pophanken.daniel@oldenburger-pferde.com
Show jumpers:
Fabian Kühl: +49 (0) 44 41-93 55 51 or kuehl.fabian@oldenburger-pferde.com
Information and catalogue orders:
Auction Office Vechta:
Elisabeth Gerberding: +49 (0) 44 41-93 55 12 or gerberding.elisabeth@oldenburger-pferde.com
Heike Arends: +49 (0) 44 41-93 55 31 or arends.heike@oldenburger-pferde.com
Site of the event:
Oldenburger Pferde Zentrum Vechta
Grafenhorststr. 5
49377 Vechta
Germany