Swedish Warmblood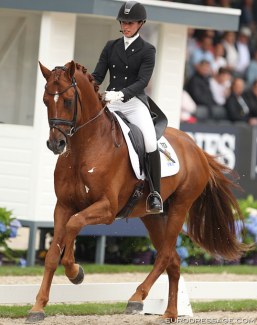 Lovsta Stutteri, Antonia Ax:son Johnson's stallion station which stands some of Sweden's most prominent dressage stallions, has announced that its three leading dressage stallions are WFFS free. 
Lovsta reported that the German lab Laboklin has returned the results of five of its stallions and they were all clear of  WFFS gene, meaning they were genotype n/n (clear). 
The Dutch warmblood Van Vivaldi (by Vivaldi x Olivi), the Swedish warmblood Sankt Erik II (by Johnson x Weltmeyer) , the Hanoverian Grand Prix stallion Benetton Dream (by Brentano II x Rotspon), as well as jumper stallions Point Break and Cayenne de Clarance, are WFFS free.
Lovsta stands more stallions according to their website: dressage stallion Flambeau (by Ampere x Zeoliet), and jumpers Heartbeat (by Heartbreaker x Ramiro Z), Karmel van de Watering (Diamant de Semilly x Quick Star), Uncanto di Vallagana (by Canturo x Acord II) and Cristallo II. Their results have not yet been released.
Lovsta Stuteri's head rider is Swedish multiple Olympian Tinne Vilhelmson-Silfven. She is assisted by Caroline Darcourt for training the dressage stallions.
Photo © Astrid Appels
Related Links
Swedish Warmblood To WFFS Test All Active Licensed Stallions
Blue Hors Reports Three of Its Stallions as WFFS Carriers
Seven KWPN Licensed Dressage Stallions Positive to WFFS
Two Everdale Sons Test Positive to WFFS, Dutch Stallion Owners Take Action, Germany In Denial