2018 CDIO-PJYR Hagen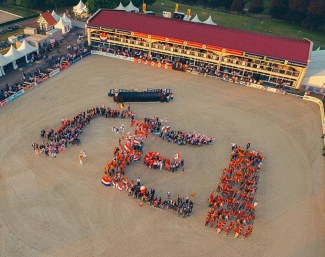 It is the world's largest youth equestrian festival, and for many top international riders, Future Champions was the jump off point into the highest levels of the international sports.  Next to the European Championships, Future Champions is the absolute season highlight for the age groups Pony Riders (U16 on Ponies), Children (U14 with horses), Juniors (U18) und Young Riders (U21) in show jumping and dressage.
In addition to the athletic challenges, it is also an important place to gain and grow contacts: "It's not uncommon for people to gain friends for life here" said host Ullrich Kasselmann, who has seen many equestrian sports stars begin their careers here, from Laura Klaphake, Philipp Weishaupt, Kristina Bröring-Sprehe, Bertram and Harry Allen, to Jessica Springsteen, and many more.
The show begins on Tuesday in the Almased-Dressage Stadium and in the Jumping Stadium on the Borgberg Mountain. There is also a qualification for the German Championships for Young Horses (Bundeschampionat) in the framework of Future Champions. This includes classes for five and six-year-old jumping horses and five-year-old dressage horses. While the dressage riders enjoy another day of training on Wednesday, the juniors and young riders in the jumping arena will get started with their warm up classes. 
The warm up continues on Thursday in the jumping stadium while the Juniors and Young dressage riders compete in their Nations Cup supported by the Liselott und Klaus Rheinberger-Stiftung as well as others. The Nations Cups for Pony Riders and Children follow on Friday. 
A highlight of the athletic schedule is the premier of a new series for up and coming riders. Now, the series that has existed for a long time for seniors, that creates action and excitement for spectators, now exists for youth riders: a Nations Cup Series. There have been Nations Cup classes for jumping riders in these age groups for many years now, even then as a pioneer project at Future Champions on the Borgberg Mountain. Now, these team competitions will be collected by the FEI in an official series: the FEI Jumping Nation's Cup Youth. For all four age groups under 21, there is a Nations Cup in Hagen a.T.W.. Teams from all around the world compete in eight horse shows in eight different countries spread throughout the world – Future Champions is the sixth station. The Juniors and Young Riders will take to the arena on Friday and the Children and Pony Riders on Saturday. The final will take place in the beginning of September in Opglabbeek (BEL).
As with all events at Hof Kasselmann, Future Champions will be complimented with a diverse shopping mile and various catering options. Entrance to the event is also free!  
For more information, visit www.future-champions.de