Products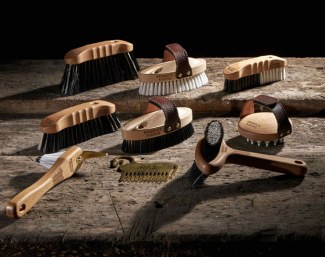 If your daily grooming routine mostly consists of a quick brush off, picking feet out and a splash of hoof oil then having to spend hours grooming your horse in the lead up to show day, you need to read on.
Equine grooming is changing and here's why.
In the autumn of 2017, Family run company, Renwick & Sons launched their new grooming kit. Two years after the first prototypes, extensive testing by equestrians from across the board and on a range of horses from across the breed spectrum, the product's evolution was complete.
As you would expect with this level of product development, this is not just any grooming kit, and their growing global presence is proof of that.
Renwick & Sons have for the first time incorporated bristle technology that we see used by professional hairdressers and married it with revolutionary ergonomic design and traditional British craftsmanship.
"One innovation which we brought over from human hairbrushes is the inclusion of tourmaline in our bristles," explains MD and Founder, Richard Renwick. "It's increasingly found in hair brushes and hair dryers, providing ionic relaxing benefits to make hair smoother with shiny results. As it stands right now, no other equine brush provides this benefit."
Other bristle technology incorporated includes MonotecⓇ ionic bristle filaments which were developed by the team.These bristles are harsh on bacteria, dust and dirt, yet kind to your horse's sensitive skin. The ionic bristles also temporarily reverse the polarity of the horse's hair molecules and help further promote circulation with a soothing effect on the horse.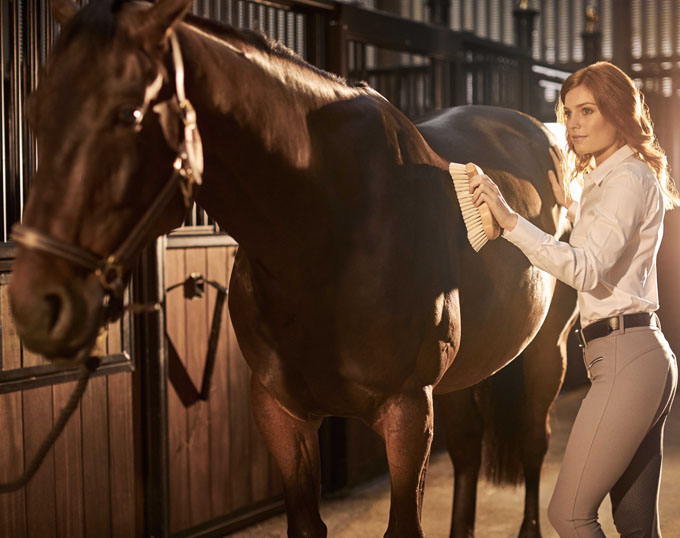 So why synthetic over natural bristles?
Daniel Renwick, Development Manager explains:
"There are so many positives to incorporating our new hybrid bristle technology. Our unique bristle patterns for each brush allow us to increase the quality of grooming effects on the coat and increase the efficiency of each job in hand. After all, your dandy brush has a very different job to your face brush. To do this, we use blended synthetic bristle into our brushes to create the perfect combination. The bristles of our face brush and finishing brush, for example, are unbelievably soft, yet effective. Natural bristles just don't offer that same level of performance or accuracy both in grooming use or their actual lifespan with use."
The tools also incorporate self-sterilising properties into their bristles, enabling them to self-cleanse two hours after use. Each item has hundreds of hours of testing behind them to define the ergonomic shape and have scientifically proven technology behind them.
So, how long does it take to produce a brush from start to customer?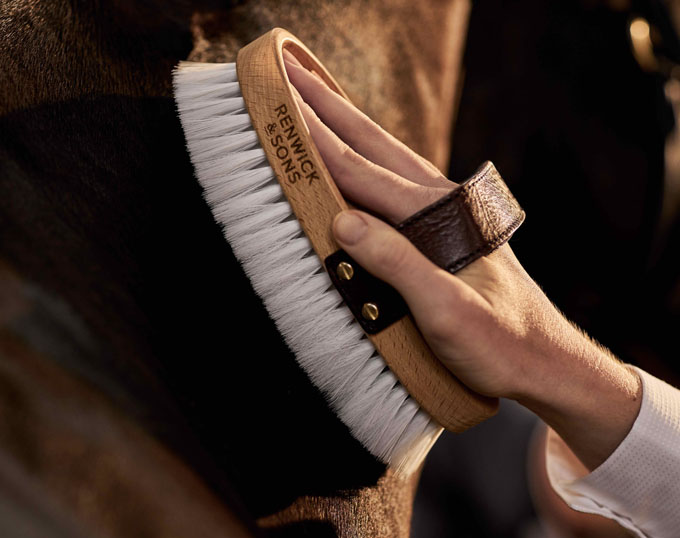 "If you include the time it takes the timbered beech wood to be seasoned into a workable wood and then the shaping and filling of the wood it takes around nine months to a year." Explains Richard.
 Add to this, the craftsmanship elements which include hand finishing with oiling, strap creation, collating each kit by eye to ensure the wood complements as a full kit, different brush sizing to fit your hand, a choice of leather brush strap colours and personalised embossing and you have something truly exceptional. Made to last.
Everything else in the equine world has moved forward and embraced technology. The way we train, feed and care for our horses has evolved from a scientific approach & the demand for 'better'. Time-saving advances with improved results. Why wouldn't you want your daily grooming routine improved with the same applied thinking?
Discover the grooming revolution on www.renwickandsons.co.uk or on its social media: Twitter - Facebook - Instagram