FEI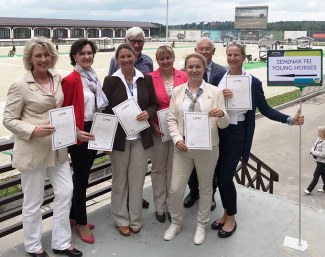 From 29 June - 1st July 2018 an FEI Course for the promotion of I-judges to become a Young Horse Dressage Judge was held at Maxima Park, Nikolaj Aristov's state-of-the-art equestrian facility in Moscow, Russia.
Dr Dieter Schüle (GER) and Leif Tornblad (DEN), both highly experienced international dressage clinicians, were the Course Directors.
The Course brought theory and practise together. The first day was devoted to a theoretical introduction to young horse judging, including theory and practical judging using videos, followed by a two-day exam comprising shadow-judging, a written test and oral examination.
Maxima Park hosted the Russian Dressage Championships and the Russian Mini Cup for ponies along with an International Young Horse event for 5, 6 and 7 year olds that weekend. The young horse classes were used for the course participants to judge as a part of the examination.
Six international dressage judges from four different countries attended this course and they all passed the tests and interviews and showed sufficient knowledge.
Both course directors were very complimentary about the organisation of the show, the hospitality and the facilities that were made available for the course.
"The course participants were very well prepared for this course, there was a friendly atmosphere with good discussion and sharing of ideas," commented Dr Schüle. "We hope the new international YH judges will go and promote the Young Horse in their countries, as it such an important part of the development of the dressage horse".
The course directors and participants expressed their gratitude to Nikolay Aristov, Maxima Park owner, for his support.
The judges promoted to judge Young Horses were Claudia Thaler 3* (AUT), Natallia Rubashko 4* (BLR), Linda Warren-Davey 3* (NZL), Agnieszka Majewska 3* (POL), Anna Eliseeva 3* (RUS), Alla Soubbotina 4* (RUS). Linda Warren-Davey is NZ's first International YH judge.
Related Links
Maxima Park, Equidome to Promote and Develop Horse Sport in Russia
Maxima Park Boosts Russia's Strength as a Dressage Nation with FEI Judges Course
Ten Judges Promoted to FEI 3* and 4* Level at 2017 CDI-W Moscow
Head of FEI Officials to be Appointed, Recommendation for Code of Conduct
Full Reports of the Dressage Judges and Officials Working Group