2018 Bundeschampionate Qualifier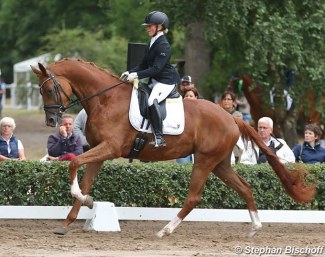 The Trakehner breed society is the first in Germany to announce its riding horse representatives for the 2018 Bundeschampionate in Warendorf, Germany, the first week of September. 
Based on the performances of the 3- and 4-year old youngsters at the 2018 Trakehner Championships in Hanover on 7 - 9 July 2018, the Trakehner society was able to make its pick.
The Trakehner riding horses for Warendorf are:
3-year old stallions
Bourani (by Fairmont Hill – Legretto) - Breeder: Maja Kozian-Fleck - Owner: Sergej Litvichenko - Rider: Sandra Frieling
3-year old mares and geldings
Herbstrot (by All Inclusive – Insterburg) - Breeder: Karp & Schulte Beckhausen - Owner: Ulrike Felbinger-Karp - Rider: Wibke Hartmann-Stommel
Ancelotti (by Cadeau – Insterburg) - Breeder:  Marika Werner - Owner: Maximiliam Camp - Rider: Lydia Camp
4-year old stallions
Speedway (by Schwarzgold – Anduc) - Breeder:  do Schmittberger - Owner: Wolfgang Diehm - Rider: Kim Pfeiffer
Zauberreigen (by Rheinklang – Interconti) - Breeder:  Elke Söchtig - Owner: Gut Staffelde - Rider: Eva Maria Lühr
The owner of Zauberreigen has declined the invite to go to the Bundeschampionate and is giving his stallion a break.
4-year old mares and geldings
Pettersson (by Hirtentanz – Maizauber) - Breeder:  Hans Wickenbrock - Owner: Petra Becker - Rider:  Lydia Camp
Photo © Stephan Bischoff
Related Link
Eurodressage coverage of the 2018 Bundeschampionate