Elite Foal Auction Borculo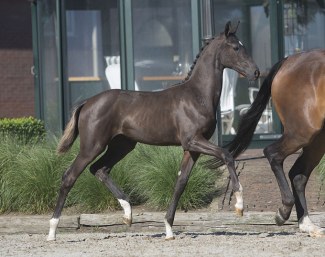 In contemporary horse breeding coincidence seems to play only a marginal role. Keeping that in mind, with the 2018 Elite Auction Borculo foal collection success is guaranteed without a doubt. An abundance of top sport genes is spread over several generations and apart from the excellent sires this is largely due to the superb dam lines signifying this collection. Please find the complete dressage foal collection on www.foalauctionborculo.com.
Dutch WEG Team Tryon
In the dressage collection we find the direct well-known Dutch dam lines of Butopia (stemming from this line are, among others, Interfloor Next One and Radar, catalogue number 56), Charites (among others Exquis Nadine and Dorado, no. 46), Corieta (among others Dark Knight Texel and Enzo Ferrari, no. 31 and 32), Endy (among others Charmeur and Zuidenwind, no. 3, 35, 62 and 65), Ilbria (among others Glock's Voice and Blue Hors Don Olymbrio, no. 9 and 12), Lola-G (among others Fellini and Emerald S, no. 59) and Warmante (among others Jazz, no. 20).
Foals from these and several other prominent dam lines have been combined with the best sport stallions. Many recent results illustrate this, such as the Dutch WEG Tryon team horses, in which we find the stallions Apache, Glock's Dream Boy and Glock's Zonik N.O.P., who respectively deliver one (no. 1), two (no. 8 and 9) and two (no. 69 and 70) offspring in the collection of 70 dressage foals. As much as three foals (no. 11-13) were selected sired by Expression, who was recently granted the N.O.P. status due to highly promising future expectations. Vivaldi's blood is also represented by direct offspring (no. 66 and 67) and four grand-children (no. 62-65) through his son Vitalis.
Totilas Blood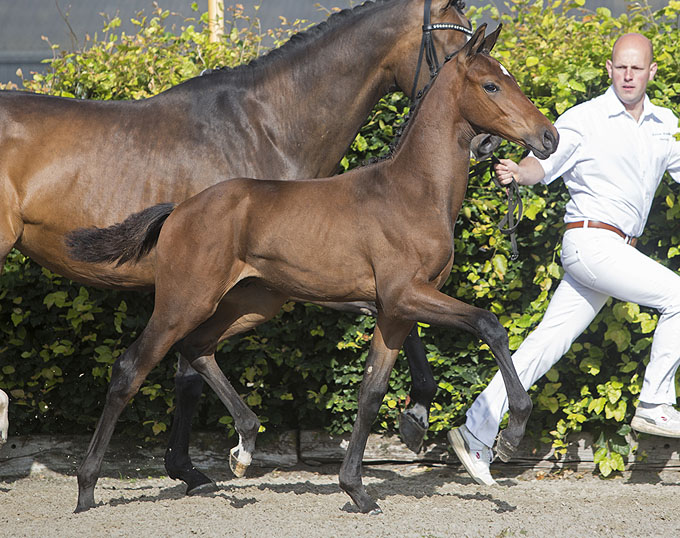 That same Vitalis left his mark at the 2018 World Breeding Dressage Championships for Young Horses in Ermelo, with horses like silver medal winner Villeneuve. D'Avie, a son by Don Juan de Hus, won the gold with the six-year olds. From his direct dam line we offer a foal (no. 14) by Eye Catcher, also once a World Championships medallist. With the five-year olds, the gold went to Revolution and naturally we also offer offspring (no. 51 and 52) by this mighty horse in the current collection. The same goes for Governor STR (no. 34), silver medallist with the seven-year olds. His sire Totilas's blood is broadly represented, with three direct offspring (no. 58-60) by this living sport and breeding legend and also three grand-children through his son Glock's Toto Jr. Former "Borculo foal" Imposantos finished in a splendid seventh place with the five-year olds. In this collection we offer a foal (by Impression, no. 38) out of a Grand Prix sister of his dam.
About the Elite Foal Auction Borculo
Since 1979, 'Borculo' has been a household name within the equestrian world and this is partly due to the fact that the organization has always been progressive and innovative. Foal Auction Borculo is therefore the first on many fronts. Not only the first foal auction of the Netherlands or the first based on the highest average auction price, but also traditionally the first auction of the regular foal auction season. The same goes for this year when on August 29th (jumping foals) and 30th (dressage foals) edition 2018 of the Elite Foal Auction Borculo takes place in Vragender.