KWPN Foal Auctions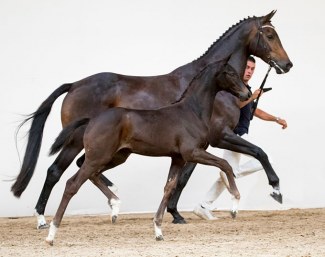 Nouvelle Feliz Texel became the top selling foal at the 2018 Prinsjesdag KWPN Foal Auction held on 13 September 2018. 
Nouvelle Feniz Texel (by Toto Jr. x Negro) sold for 85,000 euro to Aaliyah Dantism.
Natural Spring SSS (by Totilas x Charmeur) fetched the second highest price of the auction, selling for € 56,000.
Ninvasion (by Toto Jr. x Damon Hill) switched owners for € 32,000, while Nox (by Fürst Romancier x Krack C) sold for € 30,000).
Next Plosion W (by For Romance x Krack C) found a new owner for 24,000 euro.
Next Totilas (by Totilas x Foundation) sold for 20,000 euro. Filly Nuance van Hof Olympia (by Zack x Sandro Hit) fetched 19,000 euro, while colt Nayano (by Iconic B x Dayano) sold for 16,000 euro.
Colt Navarone (by Trafalgar x Apache) achieved a knock down price of 15,000 euro, while No Nonsence Texel (by Totilas x Krack C) sold for 11,000 euro
"Last year we had a record breaking auction with the dressage foals, which created a challenge to equal it this year. We are very pleased that we have been able to realize such a successful auction again, with almost the same average price," said Prinsjesdag chairman Arjan van der Waaij about the auction.
The average price for a foal was 12,500 euro.
More Auction News on Eurodressage