Austrian Warmblood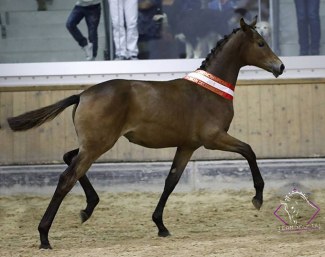 Filly Contenance S and colt Basilius MBH became the winners of the 2018 Austrian Warmblood Foal Championships held in Stadl Paura, Austria, on Saturday 21 September 2018. 
Fifteen dressage bred warmblood foals qualified for the champion's round on Saturday evening. The foals were presented in freedom in walk and trot on final time before the judges panel cast their verdict. "The top group had a very big quality basis and it was picked the best amongst the best for us," said judge Florian Solle. 
In the dressage filly division Contenance S (by Morricone x Faustinus) reigned supreme and received the champion's sash. Bred by Anna and Walter Seidl from Aderklaa, Austria, Contenance S was praised for her neck/ and forehand and extraordinary gaits.  "From the first moment she entered the ring, we know that's she was it," said Solle. The filly reserve champion was the black Amira (by Furst Wilhelm x Desperados). She is bred by Wolfgang Wörgötter.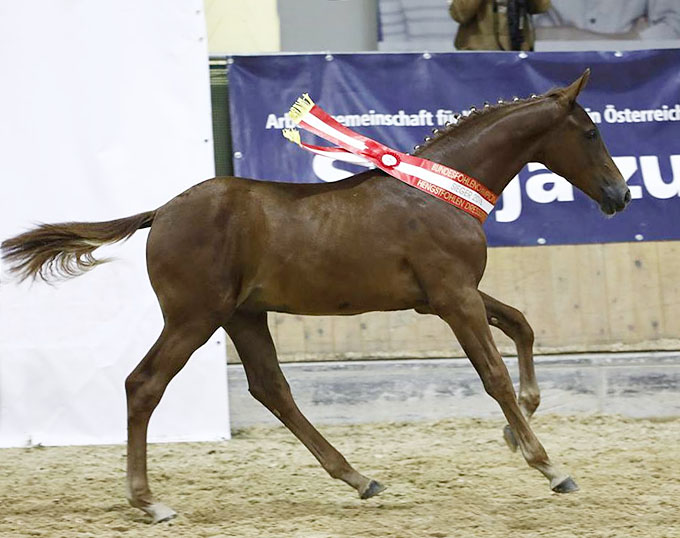 In the colt category the liver chestnut Basilius MBH (by Baron out of Moosbachhof's Filippa (by Rubinstein x Donnerhall)) topped the board and became the champion. Bred by Petra and Stefan Wiesenberger, Basilius MBH moved with uphill tendency and had an extraordinary walk. Stephen Luis VEG (by Secret x Licosto x Davignon II) was the reserve champion. Bred by the private stud farm VEG, the chestnut colt had much balance in his basic gaits.
Photos © Team Myrtill
Results - 2018 Austrian warmblood Foal Championship
Foal (breeding) - Breeder - Type - Conformation - Movement --- total
Fillies
1. Contenance S (by Morricone X Faustinus) - breeder/owner: Anna & Walter Seidl 9 9 9 --- 9,00
2 Amira (by Fürst Wilhelm X Desperados) - breeder/owner:  Wolfgang Wörgötter 9 8,5 9 --- 8,83
3 Morricone Princess (by Morricone X Lagoheidor G) - breeder/owner:  Ulrike Forst 8 8,5 8,5 --- 8,33
3 Bond Girl (by Ampere X Bretton Woods) - breeder/owner:  Ludwig Scheuringer 8,5 8 8,5 --- 8,33
5 Walking Sunshine (by Bernay X Bailamos Boilley) - breeder/owner:  Alfred Leser 8 8 8,5 --- 8,17
5 Bellissima Bay SA (by Benicio X San Amour) - breeder/owner:  Lebrecht Angerer 8,5 8 8 --- 8,17
5 Wivian (by Emilio Sanchez X Quaterhall)  - breeder/owner: Dr. Bettina Fasching Dr. Beƫna Faschig 8 8 8,5 --- 8,17
5 Giulietta S (by For Gold X Swarovski) - breeder/owner: . Elisabeth Hell Monika Schild 8 8 8,5 --- 8,17
9 Walk this way (by Le Vivaldi . X His Highness) - breeder/owner:  Alfred Leser 8 8 8 --- 8,00
9 La Fee G (by Secret X Destano) - breeder/owner:  Ernst Gruber Christian Gruber & Anna Müller 8 8 8 --- 8,00
9 Galia Lahav (by Rock Forever I X Weltglanz) - breeder/owner:  Thomas Köberl 8 8 8 --- 8,00
9 Grace Kelly (by Secret X Rosandro) - breeder/owner:  Johannes Schwaiger 8 8 8 --- 8,00
9 Royal Debut E (by Bernay X United) - breeder/owner:  Daniela Karner 8 8 8 --- 8,00
14 Bella Swan W (by Vito Corleone S X Zack) - breeder/owner:  Andreas Winter 8 8 7,5 --- 7,83
14 Flying Star (by Destano X Ramiro´s Bube) - breeder/owner:  Alfred Leser 7,5 7,5 8,5 --- 7,83
16 Campanella L (by Finest X Danny Wilde)  - breeder/owner: Alexander Liebscher 8 7,5 7,5 --- 7,67
16 La Vie Estelle (by Le Vivaldi  X Le Matin) - breeder/owner:  Nadja Schörghuber 7,5 7,5 8 --- 7,67
18 Creative Cantara (by Benicio X Compliment)  - breeder/owner:  Brit Fanta & Erika Löbig 7 7,5 8 --- 7,50
18 Geyer´s Daytona (by Fürst Jazz X Depardieu) - breeder/owner: Gestüt Geyer 7,5 7,5 7,5 --- 7,50
Colts
1. Basilius MBH (by Baron X Rubinstein I) - breeder/owner:  Petra & Stefan Wiesenberger 9 9 9 ---  9,00
2 Stephen Luis VEG  (by Secret X Licosto) - breeder/owner:  Privatgestüt VEG 8,5 8,5 9 ---  8,67
3 Quantender (by Quantensprung X Contender) - breeder/owner: Familie Pichler 9 8,5 8,5 ---  8,67
4 Graf K (by Grey Flanell X United) - breeder/owner:  Wolfgang Kromoser 8,5 8 8,5 ---  8,33
4 Secret's Diamond H (by Secret X Quaterback) - breeder/owner: Georg Hartl 8,5 8 8,5 ---  8,33
4 Illingguts's Vancouver (by Vitalis X Fürst Heinrich) - breeder/owner:  Michaela & Leonhard Brötzner 8,5 8,5 8 ---  8,33
7 Mauring`s Despacito (by Desperados X Wolkentanz I ) - breeder/owner: Anna Obernauer Fam. Obernauer 8 8 8,5 ---  8,17
8 Indigo ANW (by Ibiza X Dr. Doolittle) - breeder/owner:  Nina Wagner 7,5 8 8,5 ---  8,00
8 Fantastic Moon (by Fürstenball X Silbermond) - breeder/owner:  Achim & Carola Brugger 8 8 8 ---  8,00
8 Finest Kiss (by Finest X Fürstenreich) - breeder/owner:  Britta Gasteiger 8 8 8 ---  8,00
8 Esprit Royal (by Erdinger X Dacaprio) - breeder/owner:  Alfred Leser 8,5 8 7,5 ---  8,00
8 Silbermond (by Secret X Facetto) - breeder/owner:  Johannes Schwaiger 8 8 8 --- 4 8,00
8 Don Francesco SH (by Danone I X Davignon II) - breeder/owner:  Franz Habersatter 8 8 8 ---  8,00
8 Questano (by Quantensprung X Florestano) - breeder/owner:  Andreas Voglstätter 8 8 8 ---  8,00
15 Farell W (by For Gold X Samba Hit II) - breeder/owner:  Andreas Winter 8 8 7,5 ---  7,83
16 Bartlgut´s Herberstein (by Bartlgut´s Havard X Weltglanz) - breeder/owner:  Joachim Gritsch 8 7,5 7,5 --- 7,67
17 Geyer´s Fort Knox 1 (by For Dance X Dimaggio) - breeder/owner:  Gestüt Geyer 7,5 7,5 7,5 --- 7,50
17 Diego (by Domani X Un Amore) - breeder/owner:  Walter Pöll Mathias Pöll 7,5 7,5 7,5 --- 7,50
17 Bonfire (by Baron X Florencio I) - breeder/owner:  Jürgen Wunsch 7,5 7,5 7,5 --- 7,50
17 Sir Secret G (by Secret X Destano) - breeder/owner:  Ernst Gruber 7,5 7,5 7,5 ---  7,50
21 Der Winter (by Dimitroff MT X Fürst Romancier) - breeder/owner:  Heinz Winter 7 7 7,5 --- 7,17
Related Links
La Finessa and Dancing Devil RK Win 2017 Austrian Warmblood Foal Championships
Braveheart and Broadmoar Leonora Win 2016 Austrian Warmblood Foal Championship
Quality W and Giuliette win 2015 Austrian Warmblood Foal Championship
Viva Austria and First Romance Win the 2014 Austrian Warmblood Foal Championships
Feine Lady, David, Furst Silvano, Faustus MBH Winners of 2014 Austrian Young Horse Championships
Larissa, Cassandra L, Maurizio, Giulietta Win 2013 Austrian Warmblood Mare and Foal Championship
Uphill and Chopin Sire 2011 Austrian Foal Champions