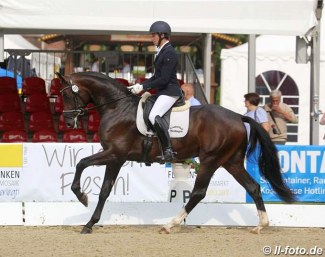 A show jumper colt by Diacontinus x Albatros became the high scorer of the 14-day Stallion Suitability test held in Schlieckau, Germany, from 12 till 25 September 2018.
Although Schlieckau was a testing station for show jumpers, a large group of dressage colts was entered for this 14-day testing. Twenty-four stallions participated and two of them dropped out. 
The overall high scorer was the Hanoverian colt Dilegros (by Diacontinus x Albatros), bred by Ralf Zierke. He scored an overall of 8.40 points with 7.91 for dressage and 8.88 for show jumping. The colt got 9 for character, 7 for trot, 9 for canter and 7.5 for walk. He had 9 for show jumping in freedom and 8.25 for rideability under the test rider.
No less than 9 stallions scored an overall of 8.0 or higher, which is an outstanding result. The second and third best scoring stallions were also show jumpers. Cascades (by Casalito) got 8.33 and Cyrillus (by Collincor) got 8.30.
The best scoring dressage horse was Burkhard Wahler's Oldenburg bred Q-Sieben (by Quantensprung x Fidertanz x De Niro) with an 8.2 total. He got 8.71 for dressage and 7.23 for show jumping. He got 9 for character, 9 for trot, 8.5 for canter and 8 for walk. He scored 9.5 for rideability, 9.25 for under the test rider and 6.5 for jumping in freedom. 
Q-Sieben got the highest individual dressage score as well. The second best scoring stallion for dressage was Ulrich Vité's German Sport Horse bred Belgardo (by Best of Gold x Sonnenstrahl x Weltmeyer) with an 8.7 dressage score and a 7.95 overall total after receiving 6.8 for jumping.
Thore Kockerols' Oldenburg bred Batton Rouge (by Bordeaux x Rotspon x Don Primero) got 8.58 for dressage and 7.88 overall.  Burkhard Wahler's Trakehner licensing champion Kaiser Milton, bred in The Netherlands and by Millennium, made a fit come back after suffering from health issues that almost led to a non-sale of the auction price highlight. In Schlieckau the black almost finished the full 14-day but was withdrawn at the end. Still the committee extrapolated him and rewarded him an 8.1 overall score with 8.13 for dressage and 7.8 for show jumping. 
Photo © LL-foto
Related Links
Kaiser Milton Back at Klosterhof Medingen, Ownership Issues Still Unresolved
Licensing Champion Kaiser Milton Restituted for Lameness
Benefit, High Scorer of 2018 Schlieckau 14-Day Stallion Performance Test
Lemercier and Titolas, High Scorers of 2016 September 14-Day Stallion Performance Testings