Austria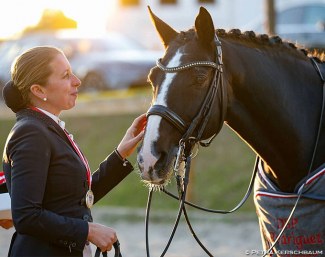 Astrid Neumayer's number one Grand Prix horse Rodriguez has been retired from competition sport in a special ceremony at the 2018 Austrian Dressage Championships in Steyr, Austria, on Sunday 30 September 2018. 
Neumayer and the 18-year old Rodriguez won silver at the hors's last dressage competition in his career. "It is silver that feels like gold," Neumayer commented about her silver medal. A special tribute was paid to the horse during the prize giving ceremony on Sunday.
Rodriguez is a Brandenburg registered gelding, bred by Gunhter Jakobs and sired by Rubinstern Noir out of Gundi (by Gaspari II).
The 1,57 m standing stallion was licensed and did his 30-day stallion performance test in Munich in October 2004, but no offspring has been registered for sport with the German equestrian federation. 
In 2011 the dark bay moved to Austrian Astrid Neumayer's yard as a gelding, where their mutual international career began at young riders' level. "It wasn't very easy. His temperament and his very lively nature often required much trust, patience and a sensitive hand," Neumayer recalled. 
In 2012 they rose to Grand Prix level and in 2013 they began competing at international Grand Prix level. Their first score was a 58.340% at the CDI Achleiten and fortunately the marks only went up from there. They ended up representing Austria at the 2015 and 2017 European Championships in Aachen and Gothenburg. The pair won triple silver and bronze at Austrian Championships.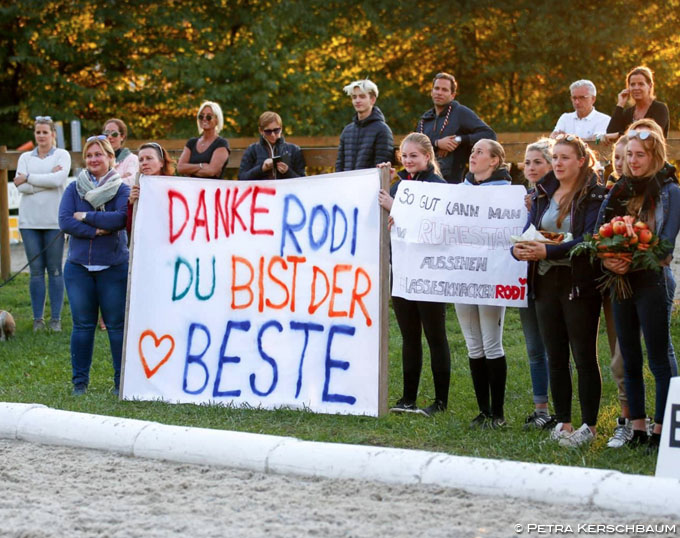 Rodriguez was a career launching horse for Neumayer. "With him I had the first chance to participate in the big tournaments," Astrid told Eurodressage. "We competed at two times at European Championships, World Cup stations like Stuttgart, Amsterdam, Salzburg; 5* like Dortmund, Mallorca and Doha. Training Rodriguez was not always easy. I have learned that if you believe in something you must not give up."
Rodriguez will now spent his retirement at Neumayer's Pramwaldhof in Austria
Photo © Petra Kerschbaum
Related Links
Eurodressage Photo Database: Rodriguez
Stallmeister, Ochsenhofer, Wurzinger, Pengg, Valenta, Weinbauer Win 2018 Austrian Dressage Championships
Austrian Squads for 2018 Announced, No Team for WEG
Hohenwarter, Thonhauser, Wurzinger, Porsche, Gmoser, Valenta, Weinbauer Win 2017 Austrian Championships
Austrian Team Selected for 2017 European Dressage Championships
Ahorner, Lorenz, Weinbauer Win 2016 Austrian Dressage Championships
Ahorner, Wurzinger, Pointinger, Max-Theurer Win 2015 Austrian Dressage Championships
Double Victory for Astrid Neumayer at 2016 CDI Cappeln
Austrians Reign on First Day of 2016 CDI Cappeln
Max-Theurer Claims Eleventh Consecutive Title at 2013 Austrian Dressage Championships