Job Offer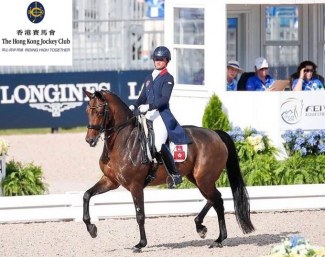 The Hong Kong Jockey Club is looking for a senior dressage trainer to strengthen its team. 
The Equestrian Affairs Department of the Club aims to fulfil the Club's vision to promote riding as a sport and raise participation at all levels, from beginner through to elite.
It oversees the management of four equestrian centres, including the Member's facility at the Beas River Country Club and three public riding schools at Tuen Mun, Pok Fu Lam and Lei Yue Mun. The Beas River Equestrian Centre (BREC), being the largest in Hong Kong, houses 250 horses and provides world class facilities including a riding school, livery yard, competition centre, rehabilitation and retraining unit (RTU), as well as a spelling unit for Hong Kong's racehorses.
The Job
You will:
be reporting to Chief Riding Instructor (CRI(BREC))
work closely with CRI(BREC), Head of Riding School and RTU Officer to provide excellent services to members
train & produce horses for livery and riding school; schooling of members' and Clubs' horses
provide high quality coaching (prelim to GP level) to livery and riding school members
prepare members for BREC and HKEF competitions and support on competition days
develop programmes to encourage participation in dressage in Hong Kong
assist in assessment of retired racehorses; work with other discipline trainers and RTU Officer to devise effective fitness and retraining programmes for retired racehorses
select horses and actively assist in their production for dressage use, with a view to developing a wider pool of competition horses for Hong Kong and Hong Kong riders
coach staff to improve knowledge and skill of schooling & competing horses on the flat
act as a member of the Show Committee, actively contribute to the management of horse shows, focusing on developing competitive opportunities for all levels in dressage
ensure OSH policies are adhered to and safe practices are instilled in work at all times
maintain accurate records for effective monitoring of lessons and billing to clients
act as the Senior Dressage Trainer for the Hong Kong Junior Equestrian Training Squad and may also be a consultant / coach to the HKEF as required
perform any other tasks as assigned by management
About You
You should:
be an experienced dressage rider who has competed to at least PSG level and ideally with relevant equestrian coaching qualifications
have passion for developing equestrian sports
have excellent skills in coaching riders of all ages and all levels with flexibility
have expert knowledge of training methods for schooling a variety of horses under saddle and from the ground;
experience of working with thoroughbreds would be advantageous
preferably be a fluent speaker of English; good understanding of Cantonese will be an advantage
have good communication and interpersonal skills
be customer centric with a positive and flexible approach and political sensitivity in handling external stakeholders (e.g. members and clients)
Terms of Employment
The level of appointment will be commensurate with qualifications and experience. Contract employment will be offered to the successful candidate. Contract renewal will be subject to mutual agreement between the Club and the individual.
Closing Date
Closing date for applications is 20 November 2018. Only shortlisted candidates will be notified.
Candidates need to fill in the application form and mail it to:
Email: recruit9@hkjc.org.hk
Fax:    (852) 2966 6984
Post:
The Human Resources Department
The Hong Kong Jockey Club
8/F, Sha Tin Central Complex
Sha Tin Racecourse
New Territories, Hong Kong
Please refer to the Form filling guide on questions