USPRE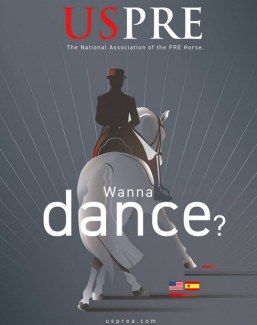 The theme for 2019 USPRE Week will be "Wanna Dance?" and USPRE is planning a musical equine extravaganza for the night of our party at Global, January 23, 2019.
Dressage will be only one of our focuses so USPRE is looking for the following horses, riders and handlers:
–Stallions for the Stallion Parade. Must be revised, and well-behaved.
–Mares under saddle, of any discipline.
–Stallions or Geldings under saddle of any discipline. Especially looking for Western tack or Doma Vaquera. Working Equitation also. Must be experienced in a large venue. Dancing horses welcome.
–In-hand performers of any tradition.
–Costume acts.
More info to come! Thanks everyone, it will be another exciting USPRE experience!
"I hope to see as many of you as possible for USPRE Week in Wellington, January 22-26, when we bring together friends, aficionados and masters from all over the US and Spain for a week of celebration, meetings, information and two of the best parties in the PRE World," said USPRE president Kimberly van Kampen.
If you want to join our musical equine extravaganza, please let us know by email  contactus@usprea.com or call us at 786-264-4961.
Related Links
The Majesty of the Pure Spanish Horse Celebrated during USPRE Week 2018
A Magical Week for PRE Lovers During 2017 USPRE Week in Wellington
Juan Manuel Munoz, Speaker at 2016 USPRE Week in Wellington
Spanish Delegation to Attend 2015 USPRE Week, Lead Seminars for Breeders