KWPN Select Sale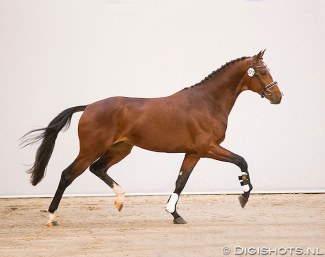 As impressive as the 2019 KWPN Stallion Licensing was, unfortunately as lackluster was the auction, the KWPN Select Sale, following it.The top priced horse sold back to its owner for 70,000 euro.
Although this year's collection of colts was of a stunning quality, some of the best stallions were not offered for sale via the auction and shoppers did not dig as deep into their wallet compared to the auctions in Verden, Munster and Vechta in the autumn of 2018.
The approved Luca Brasi (by El Capone x Sydney) fetched the highest price of 70,000 euro, but was bought back by owner Krol. 
Non-Approved Stallions Equally Interesting
The second most expensive stallion was the non-approved Lex VOD (by Eye Catcher x Uphill) who sold for 50,000 euro. The approved L'Avenue (by Bordeaux x Connaisseur) sold for the same amount. Both sold abroad.
The approved Legend B (by De Niro x Jazz) sold for 48,000 euro. The same price was paid for the non-approved Leonardo di Caprio (by El Capone x Krack C).
The non-approved L'Amour (by Grand Galaxy Win x San Remo) sold for 42,000 euro, while the approved Lord Diamond (by Daily Diamond x Scandic) achieved a knock down price of 40,000 euro.
The average price at this auction was 32,650 euro.
Stallions Sell Privately Abroad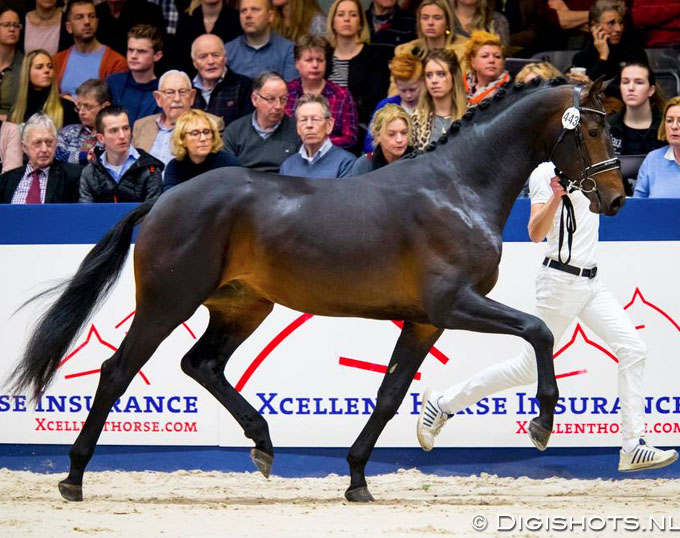 The licensing champion Le Formidable was not for sale, which made the big stallion owners look at the other premium colts to brush up their 2019 stallion roster with fresh KWPN blood.
Reserve champion Lennox W (by Grand Galaxy Win x Rousseau) was owned by breeder Bas Wilschut but he sold 2/3 ownership of the stallion to the duo Paul Schockemöhle and Joop van Uytert. Lennox W is out of a full sister to Blue Hors Zack.
The third ranked premium stallion, Lance VOD (by Glamourdale x Davino VOD) was owned by the Van Os family in partnership with Gert-Jan van Olst, but this colt sold to Andreas Helgstrand in Denmark. 
Photos © Digishots
Related Links
Le Formidable, Champion of the 2019 KWPN Stallion Licensing
Kremlin MD, Champion of the 2018 KWPN Stallion Licensing
Jameson, Champion of the 2017 KWPN Stallion Licensing 
Igor (aka Indian Rock), Champion of the 2016 KWPN Stallion Licensing 
Handsome O, Champion of the 2015 KWPN Stallion Licensing
Glamourdale, Champion of the 2014 KWPN Stallion Licensing
Fierce S (aka Franklin), Champion of the 2013 KWPN Stallion Licensing
Etoine, Champion of the 2012 KWPN Stallion Licensing
Diebrecht, Champion of the 2011 KWPN Stallion Licensing
Cover Story, Champion of the 2010 KWPN Stallion Licensing
Bordeaux, Champion of the 2009 KWPN Stallion Licensing
Ajong (aka Ampere), Champion of the 2008 KWPN Stallion Licensing
Zagreb (aka Blue Hors Zack), Champion of the 2007 KWPN Stallion Licensing 
Wamberto, Champion of the 2006 KWPN Stallion Licensing
Johnson, Champion of the 2005 KWPN Stallion Licensing
Ustinov and Uptown, 2004 KWPN Stallion Licensing Champions
Tornado, Champion of the 2003 KWPN Stallion Licensing
Symfonie, 2002 KWPN Licensing Champion
First KWPN Select Sale at 2001 KWPN Stallion Licensing
Paddo, 2000 KWPN Stallion Licensing Champion