2019 CDI Bawley Point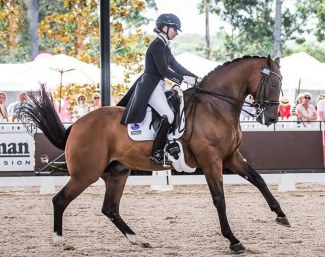 The 2016 Australian Grand Prix Champion Mary Warren and Mindarah Park Raphael were on Key at Willinga Park and won two out of three big tour classes during the second week of competition at the 2019 CDI 4* Bawley Point in Australia.
Hosted at Terry Snow's Willinga Park, the CDI Bawley Point ran two weeks back to back and brought some of Australia's top riders to the show. 
In the Grand Prix routinier Rozzie Ryan and Jarrah R (by Jive Magic) had razor close scores with Sue Hearn and Remmington (by Riverdance), but in the end, Rozzie and Jarrah came out on top with a 68.652% over the 68.609% earned by Sue and Remmington.
"It was a great day and Jarrah R really felt electric in the indoor arena," says Rozzie. "Having back-to-back CDI competitions allowed us to really establish ourselves at this 4* level and build on the work we did last week."
In the Grand Prix Special, it was the 20-year-old old Hunter Valley rider Mary Warren, and her 11-year-old gelding Mindarah Park Raphael (by Mindarah Park Ramadan, owned by Leon and Karyn Warren) to add their first ever CDI4* GP Special victory to a resume that already boasts much success. Mary is currently the youngest rider to win the Freestyle CDI-W two years ago, on Mindarah Park Ramadan. The pair scored 67.404% for the trophy.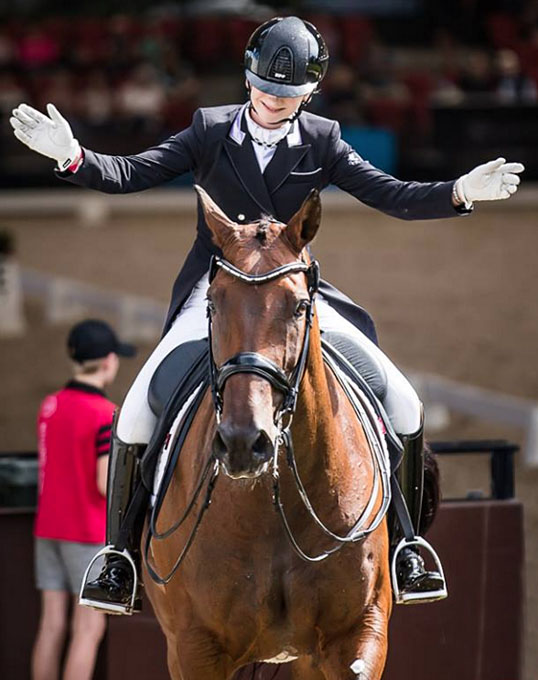 "We were last out, and I knew what we had to do," Mary said. "We've had a great campaign here at Willinga Park, some strong placings and it felt like we were close. But then to complete the test and know the score before you even leave the arena, that is so cool!"
Mary recently got a new coach, Robert Schmerglatt, who she says brings a new perspective to her coaching. "I think it's just helped to have a fresh set of eyes.  I feel like my partnership with 'Raphy' has lifted to a new level, and we really feel like a team." Today this pair will again be competing against more senior combinations, a prospect that no longer sparks fear in this accomplished rider. "I used to be overwhelmed seeing their names on the draw sheet, but now I feel like I am starting to be more consistently competitive and that's a great feeling."
After securing the Special victory, Warren and Mindarah Park Raphael went on to win the Grand Prix Freestyle with 73.600%.
"It's so special to be presenting this horse, bred by my Mum and Dad, and knowing I have been able to take him through all the levels and do what we were able to do today. It's just a dream come true," Mary said. "Last week was a big introduction to the incredible facilities here at Willinga Park. What Terry Snow has built here is unlike anything else we have ever competed in. Raphy was certainly admiring all the architecture, the stables and enjoying the picturesque walks through the garden to each arena. But today he was on the job, he felt amazing, and although I know we had some little errors, all in all, it was a good test that the judges seemed to enjoy."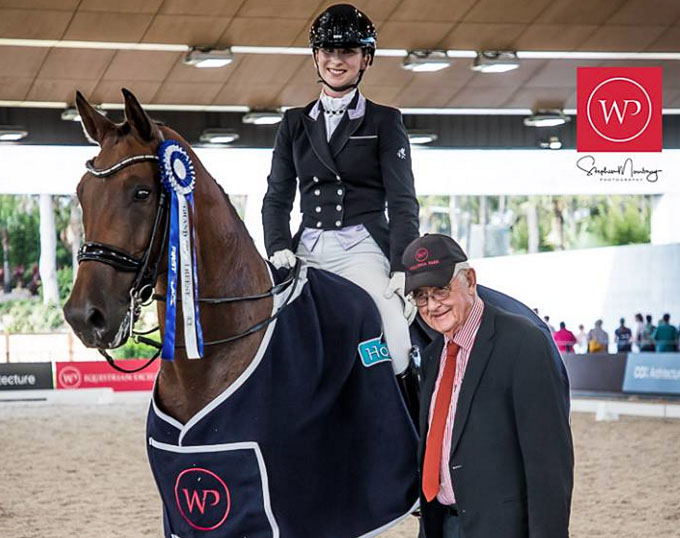 Through the first and second week of competitions, all Grand Prix combinations faced a prestigious set of international judges, including three 5* judges, known around the world.
"This is why we wanted to bring a 4* competition to Australia," says Terry Snow of Willinga Park. "These highly-regarded judges are formidable, each not scared to voice their opinions. Seeing all of the performances and scores throughout the week, I know we are having a fair but tough competition here at Dressage by the Sea."
Photos © Stephen Mowbray
Related Links
Scores: 2019 CDI Bawley Point
Hearn, Ryan, Selby Win Big Tour at 2019 CDI Bawley Point
Australia's First CDI 4* to be Hosted at Bawley Point
Hellyer and Bluefields Floreno Achieve Banging Trifecta at 2018 CDI Bawley Point
Brett Parbery Relocates to Willinga Park
Shooting Star Mary Warren Wins World Cup Kur, Heath Ryan Wins 2016 Australian Grand Prix Championship