2019 CDI Bawley Point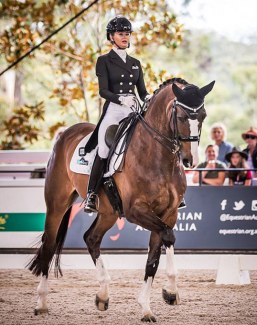 At the 2019 CDI Bawley Point the long-anticipated return of Hubertus Schmidt's former Grand Prix horse Hedelunds Mefisto took place. New owner Jemma Heran made a winning international show debut on the gelding in the Under 25 division. 
The 15-year old Danish warmblood gelding Hedelunds Mefisto is bred by Rikke Kvist in Denmark and is by Michellino out of Chrevi's La Costa (by Matador).
He was originally owned by Danish horse dealer Christian Vang-Lauridsen and his wife Vivi, before selling to Heran in 2016. 
Mefisto was trained up to Grand Prix level by Danish Joachim Thomsen, but in 2013 the owners sent the horse to Hubertus Schmidt in Germany to be sold. Schmidt and Mefisto competed briefly in 2014 - 2015, but in the spring of 2015 Mefisto sustained an injury to his jaw and returned to Denmark to recover. Schmidt and Mefisto made their come back one year later at the 2016 CDI Hagen and did more CDI in Hamburg a month later.
Mefisto sold to Australia as a schoolmaster for Heran. Initially it was announced that her coach Phil Bobic would compete the horse, but Mefisto made his international come back almost three years later with Heran herself in the saddle.
At the 2019 CDI Bawley Point, the pair dominated the Under 25 Grand Prix division in a field of four. They won the Intermediaire II with 68.431%, the Short Grand Prix with 64.487% and the Kur to Music with 71.125%.
"This was our first ever CDI together, and after only competing in the Inter II a handful of times and the U25 Grand Prix twice prior to this competition, it was really just about getting to know each other in the ring and gaining confidence together," Jemma told Eurodressage. "He felt really great. He really thrives in a larger atmosphere, although there is still so much to build on within these tests as we grow together here in Australia, it's really just the beginning."
Even though this was her international debut in dressage on Mefisto, Heran felt confident about riding the freestyle based on her past experience in hack classes. When asked if she expected a triple victory, Jemma replied, "no, it was more about going out there and getting to know him in a different atmosphere and gaining confidence in test riding together. "
She continued: "to be honest we had never ridden through the U25 GP freestyle, ever, so I didn't really know how that was going to pan out, but after showing hacks to music at 'EA Australasian Show Horse Nationals' for the last 8 years straight, riding to music was something I was confident I could pull off. For me the hard part was going to be the technicalities of the Grand Prix which every day is about learning and getting to know Meffi better."
The 22-year old Heran has been riding since she was nine and is being coached by Phil Bobic for the past 10 years.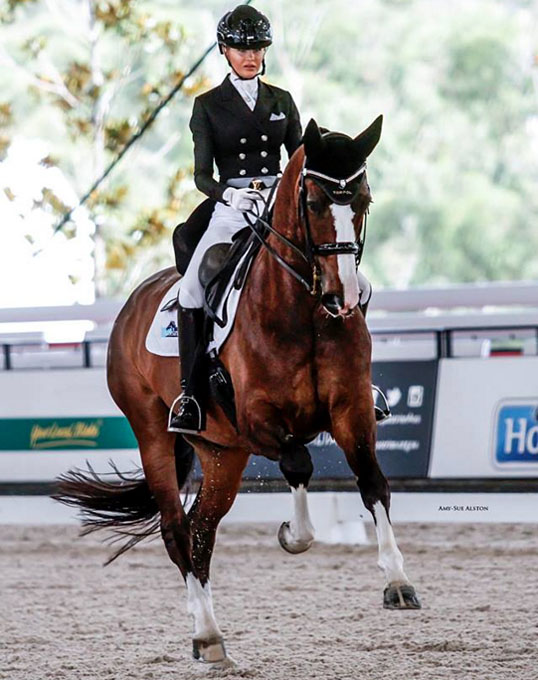 "I have been showing hacks for the last 12 years at the highest level in Australia," she explained. "For me searching for continuous improvement and wanting to accomplish more, lead to me making the transition to dressage over the last year or so, which has been really different and to be honest I am still learning the ropes of a different industry."
Jemma  is currently doing her exams for a double degree, a Bachelor of Business and a Bachelor of Laws, at Bond University on the Gold Coast in Australia.
"I also ride roughly four to five horses a day on top of studying. It's super busy, but it's all about a good balance," she added. "For now my plans with Mefisto are to improve in the U25 Grand Prix throughout this year, and see what happens."
Photos © Stephen Mowbray - Amy-Sue Alston
Related Links
Scores: 2019 CDI Bawley Point
Hedelunds Mefisto Sold to Australia
Borja Carrascosa Wins 2016 Hamburg Dressage Derby