2019 Danish Warmblood Young Horse Championship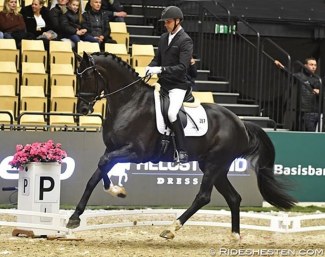 Andreas Helgstrand and Bolette Wandl's black mare Queenparks Wendy (by Sezuan x Soprano) are on their way to claiming the title in the 2019 Danish Warmblood Young Horse Championship for 5-year olds in Herning, Denmark.
On Thursday 7 March 2019, the second round was held in which international judges Isobel Wessels, Maria Colliander and Susanne Baarup assess the combinations in the 5-year old preliminary test.
The Championship consists of three rounds: the first is a free presentation by the own rider, judged by Susanne Baarup and Dennis Fisker. Those scores combined with the second round scores count for 60% of the total mark. On Sunday 9 March 2019 the final round takes place in which Patrik Kittel will test ride the horses and award a further 40% of the final score.
Helgstrand and Queenparks Wendy built up their lead after round one by winning round two. The mare scored 8.5 for walk, 9.5 for trot, 10 for canter, 9.5 for rideability and 10 for potential. Judge Wessels commented: "Wow, this is great to see a young horse with such push and mechanics." The judges also remarked that the young mare was slightly "overperforming" but added that "she looks happy when she does."
In round 1 Queenparks Wendy tied in first place with Portuguese Frederico Mexia de Almeida on the Bregnerødgård owned chestnut mare Tophøjs Florentina (by Floriscount x Solos Landtinus), but this pair made a considerable drop in the ranking, plummeting to 15th place after scoring 7 for walk, 9.5 for trot, 8 for canter, 7 for rideability and 8.5 for potential.
Hanns Luth and the Stuteri Enshoj's bay mare Ziva Enshoj (by Zack x UNO Don Diego) are now in second place. They scored 8.5 for walk, 9 for trot and canter, 8.5 for rideability and 9 for potential. The mare is owned by Helgstrand Dressage. She remained cool as heavy winds hit the show grounds and created extra noise in the indoor arena. 
Camilla Ahlers Pedersen and Vivi and Christian Vang Lauridsen's gelding Sogaards Bon Royal (by Bon Bravour x De Noir) are standing third. They scored 8.5 for walk, 9 for trot, 8 for canter, and 9 for rideability and potential in round two. 
Complete round 2 scores here.
Photo © Ridehesten
Related Link
Tophøjs Florentina and Queenparks Wendy Take Strong Start in Herning