Sweden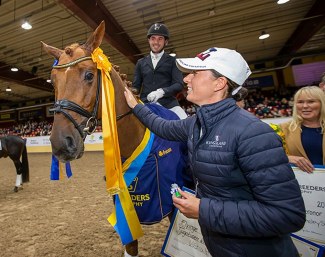 The 2019 edition of the Swedish Young Horse Championships in Flyinge, also known as the Breeders Trophy, will get some international flair as the organizers will include a CDI program for Young Riders and Grand Prix riders. 
The event will be split over two weeks, starting off with a dressage week, followed by jumping and eventing the week thereafter.  The Dressage Week goes international with a new unique partnership with Saab and the event Saab International Grand Prix.
From 23 - 29 September 2019 the Breeders Trophy in dressage will be held in Flyinge. Alongside the national young horse classes, international dressage classes for young riders and senior Grand Prix riders will take place.
"Now Swedish dressage breeders really get an opportunity to show case (their horses) for the international sport," said Helen Uddefors, president of SWB, Swedish Warmblood Association. "My dream is to see the best Swedish riders on the best Swedish horses."
The Swedish Breeders Trophy is a young horse system that has existed since 1985 and has been a stepping stone for many Swedish young horses towards an international career. 
"Within the concept of Breeders Trophy it feels like we found the right arena for our event Saab International Grand Prix. We work for the same goal; To create the best possible conditions for Swedish dressage. The competition will be a place where talent meets talent," said Stefan de Flon, sponsorship manager at Saab.
One of the Breeders Trophy important tasks is to encourage the breeders to long-term training and matching of their youngsters to the sport. And to promote the horses internationally.
"The previous set-up has absolutely met the goals but now we want to take another step," De Flon added. "When Saab International Grand Prix is held together with the Breeders Trophy the best of both worlds meet. Some of the world's most promising young horses competing in the same arena as the present and future championship riders. The ambition is that contacts should be established between breeders, owners and riders of a strong Swedish dressage sport today and tomorrow."
Related Links
Vesicula, Springbank II, Athena, Astoria, Simmebros Martell Win 2018 Swedish Warmblood Young Horse Championships
Springbank II, Skywalker, Astoria, Tiger G, Zidney Win 2017 Swedish Young Horse Championships
Florence VH, Dragon Welt, Macacho, Van Vivaldi, Quarton Win 2016 Swedish Warmblood Young Horse Championships
Dragon Welt, Final Countdown, Springbank VH, Quarton Win 2015 Swedish Young Horse Championships
Romeona, Frankie Boy, Scara Boena, Dan Brown Win the 2014 Swedish Young Horse Championships
Springbank, Revolution, Bilan, Rausing Win 2013 Swedish Young Horse Championships
Bonheur, Dunhill, Carlton Hill, JJ Rayban, Isac Win 2012 Swedish Young Horse Championships
Christo, Rausing, JJ Rayban, Isac and Hohenstaufen II Win 2011 Swedish Young Horse Championships
Sohn der Sonne, Bellagio, Isac, Jimmie Choo Win 2010 Swedish Young Horse Championships
Bellagio, Deja, Belamour and Paridon Magi Win 2009 Swedish Young Horse Championships
My Princess, Hohenstaufen II, Wladimir OA, and Yantuge win 2008 Swedish Young Horse Championships
First Wish, Excalibur of Avalon and Hermes, 2007 Swedish Young Horse Champions
Scores 2006 Swedish Young Horse Championships
Scores 2005 Swedish Young Horse Championships
Scores 2003 Swedish Young Horse Championships