WBFSH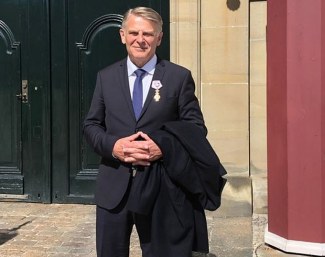 Jan Pedersen, the president of the World Breeding Federation for Sport Horses, has been named Knight of 1st class in the Order of the Dannebrog.
Pedersen has been president of the WBFSH since 1999 and chairman of Danish Warmblood since 1994. 
Pedersen was already named Knight in the Order of the Dannebrog back in 2004 by HRH Princess Benedikte for his vast endeavours for Danish horse breeding.
On Monday 29 April 2019 he was awarded a higher rank, Knight of 1st Class of the Order of the Dannebrog, which was presented to him at an event at HRH Princess Benedikte's private quarters at the royal castle of Amalienborg in Copenhagen.
"It was a great day. I feel proud and very honoured," said 64-year old Jan Pedersen who has commenced his 26th year as chairman for Danish Warmblood society alongside being president of the WBFSH for 20 years this year.
Jan Pedersen has grown up with horses as his father was a breeder of Danish Oldenburg horses and had his own licensed stallion. At a young age Jan bred a licensed Oldenburg stallion which became an international showjumper. His small-scale breeding programme partly has roots in his father's old dam line and a Danish Warmblood mare which he purchased in 1989. This mare originated from the old Danish breed, Frederiksborg, and has made a great foundation for Pedersen's breeding which includes successful dressage horses up to Grand Prix level, a gold medal mare and an approved stallion.
The Order of the Dannebrog was instituted in 1671 by King Christian V, and by that time it only had one degree called White Knight. The statutes have since been amended slightly. Today, the Order of the Dannebrog is a means of honouring and rewarding the faithful servants of the modern Danish state for meritorious civil or military service, for a particular contribution to the arts, sciences or business life or for those working for Danish interests.
Related Links
Jan Pedersen Re-elected President of Danish Warmblood Society for 11th Time
Jan Pedersen Presents Activity Report at 2014 WBFSH General Assembly
Jan Pedersen Re-elected President of Danish Warmblood Society
Jan Pedersen Celebrates 50th Birthday and Re-election as WBFSH President