Oldenburg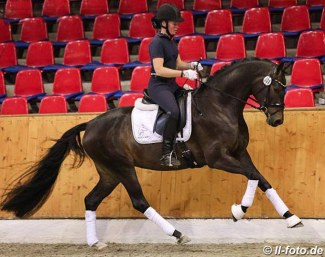 Following the mare performance testing in Vechta, Germany, the Oldenburg breed society announced the names of the mares qualified to compete in the 2019 Oldenburg Elite Mare Show in Rastede on 25 July 2019.
The main mare performance testing was held in Vechta on 24 May 2019 and 32 mares were picked to move on to the Elite Mare show in Rastede. 
This year there was no sire that jumped out with being the best represented stallion. Millennium, Furstenball, Finest and For Romance all have three offspring qualified.
The qualified mares are:
Sizzy (by Sezuan - Dauphin) - Owner: Laura Brandt, USA - Breeder: Rolf Deecke 
Fantasie W (by Fürsten-Look - Sir Donnerhall) - Owner:  Indira Wallner
Larkshill Mystique (by Ampere (NLD) - Samarant ) - Owner: Heather Stack, GB-Tingewick
Elfenliebe (by Fürstenball - His Highness) - Owner: H. & C. Hentemann - Breeder: Ewald Grotelüschen
Feel Fine (by Follow Me - Sir Donnerhall) - Owner:  Johannes Augustin
Elektra (by For Romance I - Sir Donnerhall) - Owner: Bernhard Engelmann
Shiraz (by Fürstenball - Sir Donnerhall) - Owner: G.-D. Hedemann - Breeder: Gerd u. Hajo Hedemann
Golden Girl (by Licotus - Cartusch) - Owner: Theo Reusch
Walessa (by Finest - Dressage Royal) - Owner: Paul Rode
Vive la Vie (by Honoré du Soir/T. - Detroit) - Owner: Bodo Willms
Tremendous (by Totilas - Foundation) - Owner: Schafhof + Grönwoldt - Breeder: Gestüt Lewitz
Milly (by Millennium/T. - De Niro) - Owner: Maik Kanitzky
Lanas Coeur (by Bon Coeur - Royal Doruto) - Owner:  Thorsten Oetken
Fee Royal (by Fidertanz - Royaldik) - Owner:  Thieben + Osterkamp - Breeder: Kerstin Thieben,
Shanghai (by Honoré du Soir/T. - De Niro) - Owner:  Peter Wreesmann
Renesse (by Fiderbach - Rohdiamant) - Owner: Karl Schulte-Varendorff - Breeder: C. u. K. Schulte-Varendorf
Zara (by Zack - Sandro Hit) - Owner: Christoph Tantzen
Up to Date (by San Amour I - De Niro) - Owner: Helmut Kleen
Heideromanze (by For Romance I - San Amour) - Owner:  Vera Jürgens
Poesie (by Fürsten-Look - Sandro Hit) - Owner: Stall Troff
Miss Milford (by Millennium/T. - Sir Donnerhall) - Owner: Jens Röbken
Filia de Riverbank (by Finest - Swarovski) - Owner: Riverbank Horses
Elektra Love (by For Romance I - San Amour) - Owner: Theo Fugel
Rosenfein Q (by Finest - Floriscount) - Owner: Monika Quarz
Aurelia Grey (by Flanell - August der Starke) - Owner: Pernille Heuser-Hladik, A-Wien
Denerys (by Floriscount - Detroit) - Owner: Graf v. Merveldt - Breeder: Graf v. Merveldt
Ladies Night (by Follow Me - San Amour) - Owner: Marten Hillmann - Breeder: Kerstin de Neui
Troja (by Totilas - Sandro Hit ) - Owner: Indira Wallner
Top Million Dollar (by Millennium/T. - Donnerhall ) - Owner: Edith Wolf
Full House  (by Fürstenball - Wolkentanz II) - Owner: Alexa Westendarp
Motsi Mabuse (by Don Nobless - Fürst Romancier) - Owner:  Rainer & Angelika Ahlers
Valencia J.M. (by Don Deluxe - San Amour I) - Owner: Johann Martens
Photo © LL-foto
Related Links
Venecia, Champion of the 2018 Oldenburg Elite Mare Show in Rastede
Furstin Gesine, Champion of the 2017 Oldenburg Elite Mare Show in Rastede
Candy, Champion of the 2016 Oldenburg Elite Mare Show in Rastede
Fiesta Danza, Champion of the 2015 Oldenburg Elite Mare Show in Rastede
Funf Sterne, Champion of the 2014 Oldenburg Elite Mare Show in Rastede
Calamity Jane, Champion of the 2013 Oldenburg Elite Mare Show in Rastede
Fasine, Champion of the 2012 Oldenburg Elite Mare Show in Rastede
Fire and Ice Proclaimed 2011 Oldenburg Elite Mare Champion in Rastede
Fifty Fifty, Champion of the 2010 Oldenburg Elite Mare Show in Rastede
Carlotta Wins 2009 Oldenburg Elite Mare Show in Rastede
Weihegold Wins 2008 Oldenburg Elite Mare Show in Rastede
Rebelle Wins 2007 Oldenburg Elite Mare Show in Rastede 
Silberaster Wins 2006 Oldenburg Elite Mare Show in Rastede 
Loxana, Dancing Diamond at 2005 Oldenburg Mare Show in Rastede 
Love Story V, Champion of the 2004 Oldenburg Elite Mare Show in Rastede 
Fabina, Rastede Oldenburg Champion 2003 
1999 Oldenburger Champion Mare Lady Madonna sold to the USA 
Donna Doria, the 2000 Oldenburg Champion Mare at Radstede