KWPN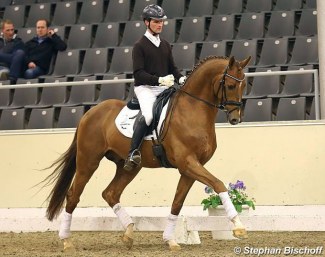 German dressage rider Philipp Hess has been invited as the guest judge rider for the 2019 Pavo Cup Finals in Ermelo, The Netherlands, on 16 August 2019.
Philipp Hess, son of the 4* dressage judge Christoph Hess, is a young professional rider has gained much respect and acclaim as a test rider at the Bundeschampionate as well as at the German stallion performance tests. 
At the 2019 Pavo Cup Finals, Hess will be joined by German Under 25 team trainer Sebastian Heinze who will provide commentary on Hess test riding the finalists. 
"For the audience it will be incredibly educational not only to see what they are doing, but also to hear why they ride a horse in a certain way. We hope to give an extra dimension to the Pavo Cup Finals with this guest rider, so that the people do not only see the most talented Dutch warmbloods, but also learn about training a young horse," said KWPN inspector Floor Dröge. 
The 2019 Pavo Cup semi-finals take place 13-14 August, the finals are on Friday 16 August 2019.
The Pavo Cup Finals are the Dutch warmblood young horse championships, organized by the KWPN society.
Photo © Stephan Bischoff
Related Links
Jameson, Imposantos, Total U.S. Win 2018 Pavo Cup Finals
Ivoli-E, Haute Couture, Great Lady TC Win 2017 Pavo Cup Finals
Happynesse E, Toto Jr, Fenix Win 2016 Pavo Cup Finals 
Guadeloupe Beau and Fenix Win 2015 Pavo Cup Finals
Fanita and Eye Catcher Win 2014 Pavo Cup Finals
Everdale and Dancer Win 2013 Pavo Cup Finals
Desperado and Charmeur Win 2012 Pavo Cup Finals
Charmeur and Borencio Win 2011 Pavo Cup Finals
Borencio and Amazing Star Go All the Way and Take 2010 Pavo Cup Finals
TC Athene and Zhivago Win 2009 Pavo Cup Finals
Zuidenwind and Wynton Win 2008 Pavo Cup Finals
Westpoint and Vivaldi Win 2007 Pavo Cup Finals
Santano and Ucelli T Win 2006 Pavo Cup Finals
Uptown and Dreamcatcher Win 2005 Pavo Cup Finals
Florencio and Sandreo Win the 2004 Pavo Cup Finals
Special D and Robin Hood, 2003 Pavo Cup Winners
Rubels and Paster, 2001 Pavo Cup Champions
Natcho and Osmium Wins 2000 Pavo Cup Finals
Broere Stallions Dominate 1999 Pavo Cup Finals
Lucky Times and Mariena Win 1998 Pavo Cup Finals