Denmark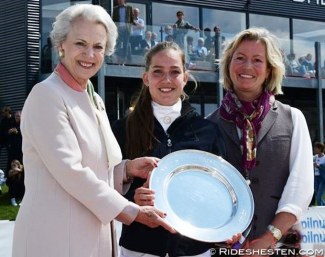 Cathrine Dufour became the 2019 recipient of the Lis Hartel Memorial Trophy, which was handed to her at the Danish Dressage Championships in Uggerhalne, Denmark, on 10 June 2019. 
Dufour is the fifth Danish dressage personality to receive the Lis Hartel Memorial Prize, which was created in 2015. 
Her Royal Highness Princess Benedikte of Denmark handed over the award, which has been created in collaboration with the Hartel-Siesbye famly and Dressurens Venner, a Danish dressage promotional foundation.
"She has shown us that talent and targeted planning can lead to something big within the sport," said Princess Benedikte about Dufour.
Previous recipients of the Lis Hartel Memorial Prize are trainer Hasse Hoffmann, journalist Britt Carlsen, trainer Bjarne Nielsen and judge Hans-Christian Matthiesen.
Photo © Ridehesten
Related Links
Hasse Hoffmann Receives 2018 Lis Hartel Memorial Trophy
Britt Carlsen Honoured with 2017 Lis Hartel Memorial Prize
Bjarne Nielsen Honoured with 2016 Lis Hartel Memorial Prize
Hans-Christian Matthiesen, Recipient of 2015 Lis Hartel Memorial Prize
Greatest Oldies: Jubilee, A Post-War Dressage Hero