2019 Spanish Dressage Championships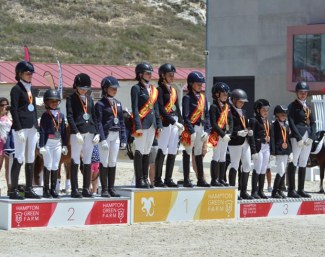 Maria Bech and Kooihuster Keimpe became the winners of the 2019 Spanish Pony Championships in Segovia, Spain, on 28 - 30 June 2019.
The FEI pony level championships (D-section ponies) consisted of three rounds: two times the team championship test and then the individual test which had a 1.5  coefficient. Six combinations competed at the highest pony level in Spain and one pony even had to perform all three rounds with two riders.
Bech and her 16-year old Dutch Welsh pony Kooihuster Keimpe (by Leuns Veld's Lord) won two out of three rounds and obtained the highest overall total for the national title. She won the preliminary with 71.333%, was second in the team test (69.190%) and won the individual test with 71.486%
The silver medal went to Sofia del Olmo Bak on the 15-year old Sophienhofs Maroon (by Sophienhofs Marok). The pair was third in the preliminary test with 66.619% but worked her way up to first place in the team test with 70.429% and landed second place in the individual with 69.685%.
The bronze medal went tp Aina Suau Fullano on the 9-year old German bred Hugo (by Hemingway B). She was second in the preliminary test (69.524%), third in the team test (68.905%) and third in the individual with 68.153%.
Results - 2019 Spanish Pony Championships
1 María Bech Salvatella - Kooihuster Keimpe - 71.333 - 69.190 - 107.229 --- 247.752
2 Sofia del Olmo Bak - Sophienhofs Maroon - 66.619 - 70.429 - 104.528 --- 241.576
3 Aina Suau Fullana - Hugo - 69.524 - 68.905 - 102.230 --- 240.659
4 Milena Moral Pastó  - Floridor - 65.667 -  67.429 - 97.568 --- 230.664
5 Maddi Lezamiz Bustinza  - Fiona Royal - 62.095 - 63.429-  97.568 ---- 223.092
6 Nora Lezamiz Bustinza  - Fiona Royal - 62.238 -  62.571 - 93.987 --- 218.796
Related Links
Hessel Ferrer, Bacariza Danguillecourt, Abollo Fontela and Martinez del Moral Win 2018 Spanish Youth Riders Championships
Pons Sole, Abollo and Blazquez Win 2017 Spanish Youth Riders Championships
Serrano Pons, Segui Pons, Navarro Torrens Win 2016 Spanish Youth Riders Championships
De La Fuente, Ramirez, Laiz Wins 2015 Spanish Youth Riders Championships
Sofia Argelich Wins 2014 Spanish Pony Championships