2019 European Youth Riders Championships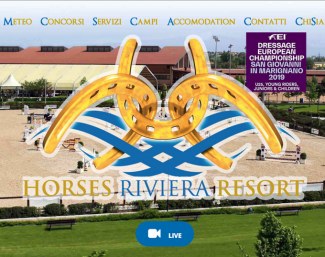 With three weeks to go until the start of the 2019 European Youth Riders Championships in San Giovanni, Italy on 24 - 28 July 2019, the organisation can boast a record number of entries for the event.
Hosted at Horses Riviera Resort, the Championship will be welcoming 243 pairs that have been registered up to this points. Such record numbers have never been reached at previous championships. 
Twenty-six nations will be represented: Austria, Belgium, Bulgaria, Denmark, Estonia, Finland, France, Germany, Great Britain, Greece, Luxemburg, Norway, Holland, Poland, Portugal, Czech Republic, Russia, Slovakia, Slovenia, Spain, Sweden, Switzerland, Turkey, Ukraine, Hungary and obviously Italy.
Four of those have the maximum of 16 registered, four in every category: Germany, Spain, Italy and Holland. Russia came close but ended up selecting just two Under 25 riders.
Thirteen countries have at least one rider in every category: among the ones previously stated, there is also Austria, Belgium, Denmark, Finland, France, Portugal, Sweden and Hungary.
Between the four categories, the Juniors has the most participants (81), followed by Young Riders (65), Children (52) and Under 25 (45).
Comparing these numbers to the 2018 European Children, Junior and Young Riders Championships in Fontainebleau (France) and Under 25 Championships Exloo (Holland), the number of participating nations changed slightly (last year there were 27) and there was about a 10% increase in the number of horse and rider pairs (222).
In the individual categories, there is once again an increase in the number of participants in the Under 25 Category (35 in 2018), Juniors (last year there were 73) and Children (48), while there is one less in the Young Riders (66). Italy had 11 horse and rider pairs: 4 juniors, 4 Young Riders, 2 Children and 1 Under 25.
Related Link
Eurodressage Coverage of the 2019 European Youth Riders Championships
Provisional statistics three weeks before the 2019 European Youth Riders Championships