Emrbyos for Sale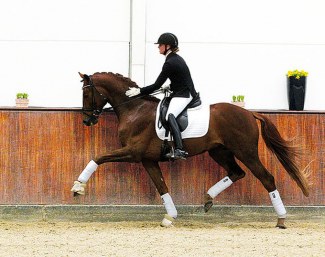 Name: unnamed yet – in utero embryo transfer
Date of Birth: due approx. 16th April 2020
Sire: Baron
Dam Sire: Negro
Price category: £20,000 - 25,000
An extraordinary opportunity to purchase a foal 'in utero' out of the famous Weidyfleur II, full sister to none other than the legendary Valegro, by the sensational young stallion Baron, offering a compelling cocktail of the very best of world class breeding lines.
Both dam and sire have tested WFFS N/N (negative)
The embryo has been transferred to a very suitable recipient mare and is due approx. 16th April 2020. The recipient mare is on loan until weaning and can be transported to Europe if required.
Sire: Baron
Baron is a sensational young stallion with outstanding basic gaits. He has perfect mechanics that allow him to be awesome in every pace. He is loose through the shoulder with maximum freedom of movement, a super, pushing hindleg and an elastic topline. He has a great brain and trainable temperament, already proving to be very rideable and easy to train. Baron mesmerised the crowds at the Spring stallion shows in 2017.
Sire - Benicio is a beautiful stallion who won the six-year-old German Bundeschampionate as well as his Stallion Performance Test at Schliekau, with perfect 10's for walk, trot and canter. His final score for the dressage section, 9.88, superseded even that of his father and was the highest score ever achieved in a stallion performance test. Benicio's sire Belissimo M is a renowned sire of grand prix horses, famous for passing his good temperament, his rideability, and a pretty face! He competed at top level himself and his offspring include Bella Rose, currently number one in the World FEI Dressage Ranking, team Gold Medallist at 2014 World Equestrian Games and team & individual Gold Medallist at 2018 World Equestrian Games.
Damline - Damsire Sir Donnerhall I is one of the greatest sires in Germany. A son of the great Sandro Hit, Sir Donnerhall is the sire of the double World Young Horse Champion, Sa Coeur (2012 and 2013), who sold for a staggering €2.3million at the 2012 PSI Auction in Germany. The only horse to have exceeded this was the Sandro Hit daughter Poetin, who sold for €2.5million in 2003. His son Sir Heinrich was Oldenburg champion four-year-old and Vice Bundeschampion, and Stanford was bronze medallist of the three-year-old stallions. Sir Donnerhall himself was Bundeschampion as a five-year-old, and Vice World Young Horse Champion.
Dam: Weidyfleur II
On the mother's side dam Weidyfleur II brings us the bloodlines of the wonderful Valegro, known simply as 'the best the world has seen'.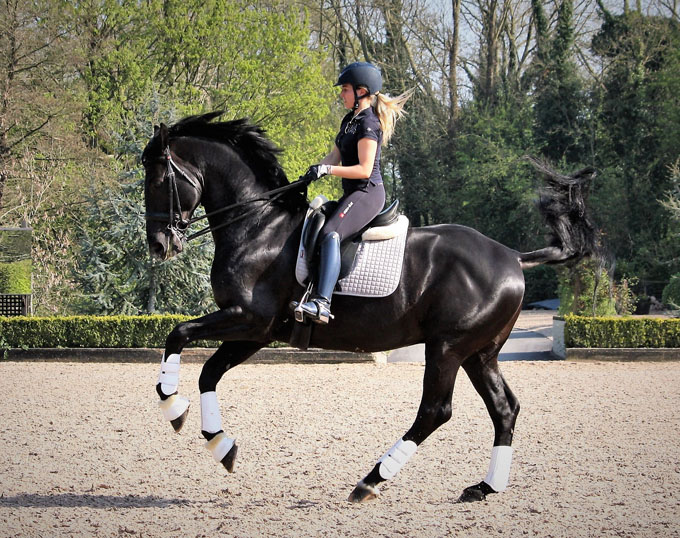 Weidyfleur II has proved herself as a broodmare of international renown in her own right. Her offspring all have great power, very athletic natural movement with wonderful rhythm and balance combined with cleverness and trainability. Unsurprisingly Weidyfleur's offspring are highly sought after and include the approved stallions U-Genius & Integro.
Damline – Negro has certainly confirmed his value as a sire of top dressage talent, is highly ranked on the WBFSH Dressage Sire Rankings and his offspring have proven time and again that they have the talent for Grand Prix work. An exceptional canter, active hindleg and talent for collection are consistent across his offspring with the great ability to switch and collect, as demonstrated by his unprecedented talent for piaffe and passage. Due to the exceptional quality of his offspring, Negro has been awarded the coveted Preferant status by the KWPN: "A fitting crowning for this black "Crown Prince" by Ferro, who seems to emphatically pass on his good and strong characteristics directly and through his daughters" (KWPN quote) and KWPN Stallion of the Year 2017.
Negro's sire Ferro has been one of the most successful international dressage stallions in history, capturing the Team Silver at the World Equestrian Games, European Championships, and Olympics. Negro's dam, the Keur mare Fewrie, is by the successful international dressage stallion Variant.
Inimitably, through the powerful and positive influence of Negro's genetics he is becoming increasingly more significant and strongly valued as a "maternal sire" as shown in Chippendale, Everdale, Fairytale, Glamourdale, Jayson and many more.
The recipient mare is on loan from Tomlinson Equine Stud (TES) and should be returned to TES after weaning. The recipient mare and all related costs will be the full responsibility of the purchaser (of the embryo) from date of purchase until returned to TES. All hire charges and costs to date for the recipient mare have been paid by the Vendor.
Insurance of the recipient mare and embryo will be the responsibility of the purchaser from date of purchase.
Located in Great Britain
Owner Contact Info