Bits 'n Pieces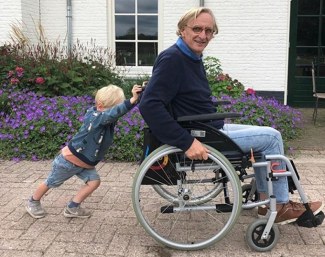 Joep Bartels, the co-founder of the World Cup circuit and husband of Dutch Olympian Tineke Bartels, has fractured his pelvis in a cycling accident. Bartels has been an avid cyclist for more than fifty years and as he joins his wife to dressage competitions, he always brings his bike to stay fit. Unfortunately at the end of August, Bartels fell with his bike and fractured his pelvis. He was operated on at the  Elisabeth Hospital in Tilburg. Joep is currently in a wheel chair to recover and is looking forward to climbing back on his bike. "Besides horses cycling is how I can blow off steam," Bartels commented. "This is only my first real injury in the almost sixty years that I cycle. If I look at Tineke and her injuries, I'm still well off. Both sports have their risks, but I don't plan to become an old, immobile pensioner."
Dutch Grand Prix rider Daniëlle van Mierlo is 15 weeks pregnant with her first child. The 30-year old Van Mierlo and her partner Koen van der Pol announced the news with a video on Youtube that includes footage of Van Mierlo surprising her own partner with the news that she's pregnant as well as their family. The baby is due for the end of February 2020. There has been a gender reveal party for the family, but Danielle is keeping it still a secret.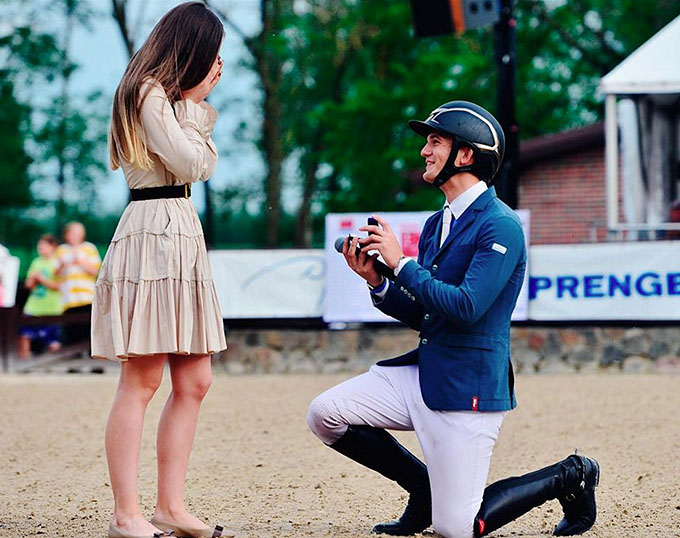 Russian Under 25 Grand Prix rider Aleksandra Maksakova got engaged to Russian show jumping rider Egor Shchibrik. The 18-year old Russian jumper proposed to 22-year old Maksakova already back in May at the CSI Darguziai in Lithuania. She said yes.  Shcribrik is the son of Maksim Shchibrik, Vice-President for Finance of the Russian Copper Company (RMC).
Dutch FEI rider Fieke Houwen became a mother for the second time on 31 August 2019. The 32-year old Houwen gave birth to a baby girl, named Jalou, on 31 August 2019. Her first daughter, Nomi, is 2 years and 9 months old. Houwen is mainly focusing on national level dressage and last competed internationally in 2014 with small tour horse Zweed and young horse Spielbergs Cartier. She is currently riding the licensed stallion Electron.
Dutch horse dealer Judy de Winter has appointed a new head rider for her horses, Jeroen Bakker. Two months ago Dominique Filion decided to go independent after having worked for De Winter for nine months. Before Filion there were Roos van Schaick, Stephanie Kooijman and Philip van Ommen who rode for De Winter. Vincent Chen's KWPN licensed stallions Four Legends KS is the top horse stabled at Judy's and stays under her care.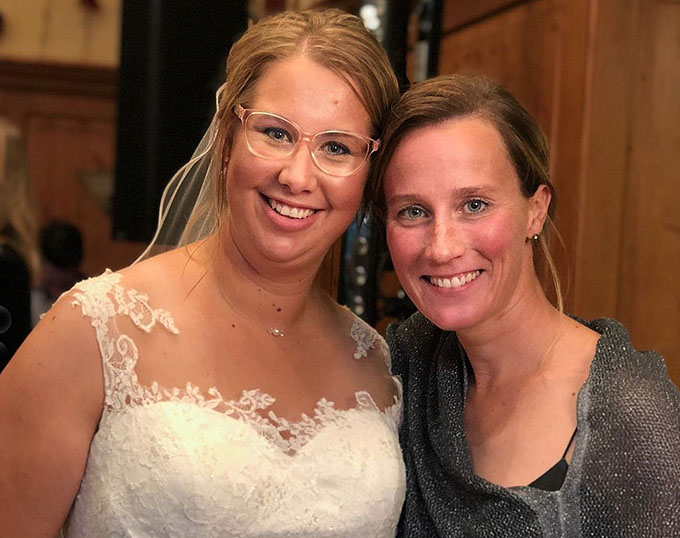 German groom Ann Christin De Boer, who is up for a 2019 FEI Award in the Best Grooms' category, got married at Landgasthaus Overwaul. Helen Langehanenberg's long-time groom De Boer married her partner René on the weekend of 28 - 29 September and Langehanenberg was the bridesmaid. "It feels so good that I could do something for her after years of all support she has given," she wrote on Instagram. "It's Pay back time and today was a good other way around situation."
The KWPN licensed stallion Jamaica (by Desperado x Wynton x Contango) has been gelded and sold. Previously owned by Witte-Scholtens, Hergen van Hall and Gern Bouma, the dark bay was trained by Emmelie Scholtens. He scored 80,5 points at the 2017 KWPN Stallion performance test. The gelding will stay in The Netherlands.
Dutch dressage rider and fashion model Melody Vroom has entered herself for Barn or Yard, . The 21-year old, who once competed internationally on her pony Balthasar at the 2012 CDI Roosendaal, hopes to boost her popularity through this TV-show, in which "true" love is sought and found ;)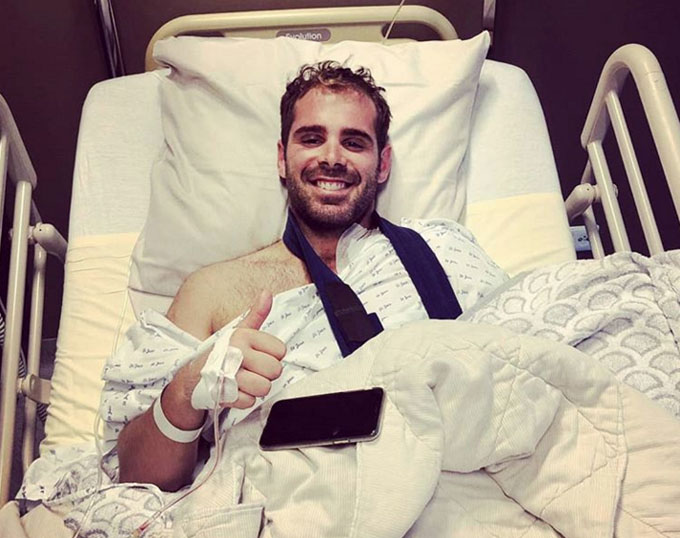 Dutch based Spanish dressage rider Antonio Laiz Zandio broke his collar bone at the end of September. Antonio fell off a youngster and injured himself. He was transported to the hospital where he got diagnosed with a broken collar bone and was operated on. "Surgery went perfect and will be back on track in 3 weeks," he said. 
Israeli dressage rider Roy First has obtained the ride on Marlies van Baalen's Grand Prix horse Zinidi DVB. Marlies competed the now 15-year old Dutch warmblood by Gribaldi x Wisconsin at international small tour in 2014, at medium tour in 2015 and at Grand Prix level in 2016. He hasn't done any international shows since then. Most recently Spanish Moises Jover Azuar was riding the horse, but now First will take over Zinidi as a GP schoolmaster.