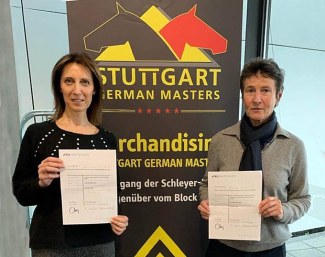 Thirteen international dressage judges got promoted to a higher star level by successfully completing the exams held during the 2019 CDI-W Stuttgart in Germany on 15 - 17 November 2019.
Judges from all over the world, including Canada and New Zealand and a large group of European judges, attended the exam which took place during the World Cup qualifier in Stuttgart.
The examination included a written exam about the theory and rules of dressage judging, followed by a day of shadow judging during the CDI-W Stuttgart. The candidates had to do a personal interview with course directors Katrina Wüst and Isobel Wessels.
The following thirteen judges were promoted to a new star-level:
4*- level
Annick Dauban (FRA) 
Sandrine Trimborn (FRA) 
Anna Eliseeva (RUS)
Hans Voser (SUI)
Gabriela Valerianova (CZE) 
Linda Warren-Davey (NZL)
Agnieszka Majewska (POL)
Claudia Thaler (AUT)
Janine van Twist (NED)
3*-level
Barbara Franyo (HUN) 
Connie Bookless (AUS)
Birgit Valkenborg (CAN) 
Patricia Wolters (NED)
Related Links
Five Judges Promoted to 4* Level at 2016 CDI-W Salzburg
Thirteen Judges Pass FEI Judges Exam at 2014 CDI-W Stuttgart